Thursday, September 1, 2005
VLJs Turn Short Final
As the market comes to a boil, three finalists are vying to become the first certified Very Light Jet
The Mustang features a cabin in standard conference configuration (two plus four) plus a side-facing toilet seat abeam the cabin door for a total seating capacity of six. Predictably, the panel will feature the industry-standard glass primary flight display (PFD) and multi-function display (MFD) supplied by Garmin. In keeping with RVSM requirements above FL280, the Mustang will feature dual altimetry, dual air-data computers and an appropriately sophisticated autopilot, also by Garmin. In addition, Garmin will provide XM weather downlink, a Garmin radar and a traffic information system.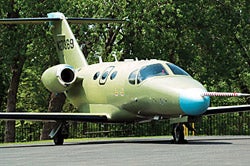 FADEC is the trend these days, and the Mustang will offer it, along with anti-skid brakes and the obligatory speed brakes. The Mustang is planned to have a wide speed envelope, with high cruise and low approach speeds, so thrust reversers won't be necessary for landings.
Unlike the CitationJets that fly in front of Williams turbofans, the Mustang is powered by a pair of fuel-efficient Pratt & Whitney PW615F fan jets rated for 1,350 pounds of thrust a piece. Preliminary specs are for a cruise speed of 340 KTAS at FL350 with an 8,000-foot cabin.
Cessna currently claims over 230 orders for the $2.3 million Mustang, which will be built at the Independence, Kan., plant. The company is confident that it will meet or beat the December 2006 first-delivery date for its VLJ.
Adam Aircraft president Joe Walker sums up a feeling for all three of the VLJ contenders. "What's really exciting is that now, you'll be able to get a jet for half the price you could five years ago. Now, that's pretty amazing and wonderful."
For more information about the Adam A700 jet, contact Adam Aircraft at (303) 406-5900 or log on to
www.adamaircraft.com
. For Cessna Aircraft Company and its Citation Mustang, call (800) 4-CESSNA or visit
www.cessna.com
. For Eclipse Aviation and its Eclipse 500 jet, dial (505) 245-7555 or click on
www.eclipseaviation.com
.
Page 4 of 4