Wednesday, September 9, 2009
Gobosh 800XP: Flying With Composites
It has been five years since the FAA approved the first LSA. Here's one of the latest and most innovative entries in the class.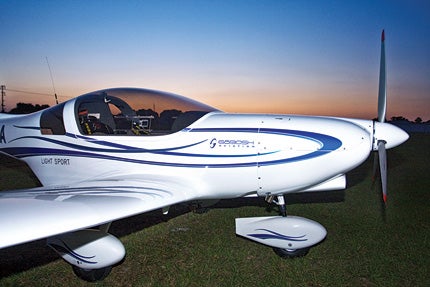 I wasn't quite sure what to expect. Gobosh's Dave Graham had promised me that this was an LSA with a difference. I had my doubts, not because of any inherent mistrust of LSA, but because, well, all of the type are limited to the same parameters.
I had flown the Gobosh 700 a year or so before, and the new 800XP was touted as a different type of machine. Gobosh has always claimed it builds luxury-sport aircraft, not light-sport aircraft. Indeed, the company's name alludes to "Go big or stay home," a suggestion that the Gobosh 700S and 800XP are a cut above the competition.
These days, that might be tough to verify. The industry has gradually expanded to include 80 manufacturers, all hoping to cash in on the LSA boom that started nearly five years ago when the FAA approved the first few LSA.
Gobosh introduced the 700S in 2007, and the company has now premiered a new model. Both the 700S and the 800XP use the same Rotax 912 engine with 100 hp out front driving a fixed-pitch, three-blade, composite Elprop. The new 912 engine is a relatively high-compression (10.5:1), four-stroke mill that turns 5,800 rpm at redline and uses a 2.43:1 gear to reduce prop rpm to a more civilized 2,400. Max cruise is 5,100 engine rpm for 2,100 revs at the prop. TBO is 1,500 hours.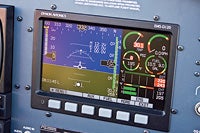 Aesthetically, the two airplanes look similar, though the 700 features a mackerel scoop beneath the cowling, while the 800 utilizes a smaller scoop with characteristic LoPresti-style cooling vents on either side of the prop. The 800 also has a considerably longer wing.
The 700 is made of all-aluminum construction, but the newer 800 is a composite airplane—not just composites covering an aluminum fuselage and wing, but a totally composite design. In fact, since the engine and prop are essentially the same on both airplanes, you have to conclude that composites alone reduce empty weight from 818 pounds on the 700S to 760 pounds on the 800XP.
That's all the more surprising considering that the 700S uses four feet less wing. You'd expect that to result in a lighter empty weight, but composites are so disproportionately lighter that they easily offset the longer wing.
Page 1 of 3