Wednesday, September 9, 2009
Gobosh 800XP: Flying With Composites
It has been five years since the FAA approved the first LSA. Here's one of the latest and most innovative entries in the class.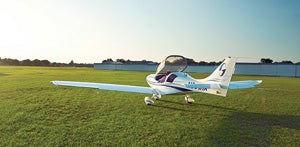 Think about that for a minute. You can transport two people over 600 nm for less than $100. No, that doesn't include all the other costs of running an airplane, but even at double the cost, Southwest or JetBlue would be hard-pressed to match it.
The Gobosh's low-speed capability makes landings nearly automatic. Elevator sensitivity at cruise is almost too good, and you might anticipate a tendency to overcontrol pitch during landing. Fortunately, the 800XP has a super-low stall of only 35 knots in the dirty configuration, and that means you can mosey down final as slow as 50 to 55 knots. That's so slow that aerodynamic forces across the control surfaces are extremely low.
Overcontrolling the pitch axis doesn't turn out to be a problem. You can easily ground the airplane in considerably less than 1,000 feet and get back off in roughly the same distance.
It's not necessary to settle for second-class avionics in a Gobosh 800XP. The airplane comes standard with a Garmin 495 (GPS only) in an AirGizmos mount, a Garmin SL 40 COM and a Garmin GTX 327 transponder. There are a number of upgrades, including a step-up to a Garmin 496 and a TruTrak autopilot (a desirable option for this capable little plane). A dual-screen Dynon glass panel is standard on the 800XP.
Back in 2005 when the feds approved the light-sport rule, the goal of most manufacturers was to build the type for less than $100,000. That has proven something of an improbable—if not impossible—mission, though some manufacturers are still attempting to bring their products under the $100,000 mark.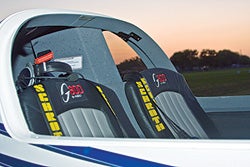 Others have accepted the inevitable and are pricing the airplanes at more realistic numbers that may even allow for making a profit. Jack Pelton of Cessna had hoped the new 162 SkyCatcher could be sold for under $100,000, but it appears the price will now be at least $10,000 above that.
The new Gobosh 800XP is priced at $135,900, but Gobosh makes no apologies. This is far from an entry-level airplane. It comes with a ballistic parachute (à la Cirrus), plus a two-year, 400-hour warranty, and Gobosh appears to be in the market for the long run. Gobosh President Tim Baldwin and Vice President Dave Graham are young veterans, having been involved in the Symphony 160 project, and they plan to make their living in this industry for some time.
Admittedly, the 800's performance is limited by the 120-knot regulation, and there are several other airplanes pushing that same number, but the Gobosh 800XP offers the kind of performance you might expect from a fully certified airplane, in addition to the quickest handling in the class—all at a fraction of the certified airplane cost.
Page 3 of 3