Tuesday, March 12, 2013
Lovely And Lively
The G-700S is resurrected as the AT-4, but still friendly as ever
It's cold. An arctic blast brought freezing temperatures overnight and it's just 7 a.m. now. Brrr! I've just met Greg Trzaska of Aero AT-USA at his home airport of Northampton (7B2), Mass. We stand shivering, warming our innards with the coffee and doughnuts my host has brought.
It's a clear, sharp, Northeastern winter's blue-sky day, and a great day to fly. Trzaska is one of five U.S. dealers for the Aero AT-4. If you don't recognize the handle, does the name Gobosh G-700S ring a bell? That's the cute, lively, low-wing flivver I first flew five years ago.
Back then, the G-700S was repped by Dave Graham and Tim Baldwin. They held a respectable market share with 26 sold in the U.S. by December 2010. Then, as with so many aviation enterprises, Gobosh succumbed to the EconoCollapse and by 2011 was no more.
Fastforward to early 2012: Three Denver entrepreneurs invested in a new import and sales enterprise to keep the G-700S—rebadged as Aero AT-4—healthy and happy in U.S. skies, and with a reduced base price of $105,000.
That's good news for Gobosh owners and flight schools, too, because the AT-4 is, literally, a born trainer as well as a comfortable medium-range cruiser.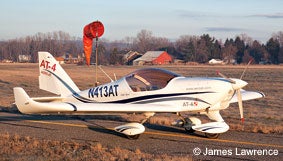 The Aero AT-4, formerly the Gobosh G-700S, is the S-LSA version of the AT-3 in Poland. It has an increased wingspan, added winglets and a modified airfoil.
Beyond Skin Deep
The AT-4 is decidedly sporty with its sexy upturned winglets, big, one-piece bubble canopy, jaunty swept tail and wide, rugged tricycle gear. The interior serves up attractive, very comfortable leather seats and a roomy instrument panel. Greg Trzaska's pretty white demo is fitted with dual-screen Garmin G3X avionics. The G3X, introduced a few years back as a robust electronic flight instrument system (EFIS) for light-sport aircraft (LSA) and experimental owners, is a quality draw, all on its own.
The G3X crams a ton of functionality into its two seven-inch screens: synthetic vision with 3-D "pathways," the EIS, engine monitoring, built-in GPS, Air Data Attitude and Heading Reference System (ADAHRS), autopilot integration and, on Trzaska's demo, traffic alerts and XM satellite weather and radio.
The AT-4 is the special light-sport aircraft (S-LSA) version of the popular AT-3 offering from Aero Ltd. of Poland. Established in 1994, it was the first in its country, and sixth in the world, to certify an airplane to Europe's new JAR-VLA certification standard. After that came an European Aviation Safety Agency Certification Specification for Very Light Aircraft (EASA CS-VLA) Type C Certificate in 2005, and full Federal Aviation Administration (FAA) certification in 2010.
Page 1 of 5