Tuesday, June 24, 2014
Return Of The Great Lakes
Peter Bowers likes to revive and update 1930s vintage biplanes—first the Waco, now the Great Lakes
Time flies, and so do I when I'm having fun. Call me a purist, but flying an open-cockpit biplane has always seemed the simplest and most elemental form of aviating. Over the years, I've been fortunate to fly a dozen or so open-cockpit machines, all but one of them biplanes, and nearly all dedicated to one form or another of flight training.
The Great Lakes was the first of those classic designs. "My" occasional rental biplane was a truly tired machine based in Compton, Calif., in the early 1970s. Dan Rihn, builder of a single-place Pitts in the hangar next to mine at Compton and an engineer for Northrop in the real world, shared the rental with me of that barely flyable, old Great Lakes as we explored basic aerobatics off the Southern California coast. We'd rent for an hour and trade off a few minutes at a time, complete a short sequence, then hand off the biplane with a shake of the stick.
Dan went on to become a star in the aerobatic world, conceiving the DR-1 One Design and competing in the Unlimited aerobatic class, but we both had plenty of laughs learning a little about acro in the 2T-1A biplane.
Fast-forward 40 years to the 2014 Sun 'n Fun air show in Lakeland, Fla. Peter Bowers, owner of Waco Classic Aircraft in Battle Creek, Mich., had dreamed of reviving the Great Lakes design for years. In case you hadn't guessed by the company name, Bowers is the power and direction behind the revival of the Waco YMF-5, and the new Great Lakes 2T-1A-2 is the result of his vision and belief in the salability of another classic biplane.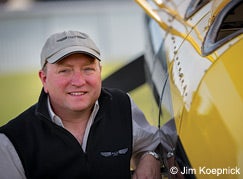 Waco Classic Aircraft owner Peter Bowers purchased rights to the Great Lakes type certificate to put it back into production.
Bowers didn't rise to own an aircraft company by making stupid decisions, and for that reason, he chose to incorporate only those changes to the Great Lakes that related to safety and system integrity, and didn't demand recertification. He knew that recertifying the Great Lakes for more power, an enclosed canopy, additional fuel or other major changes could tie up government certification for years and cost multiple millions.
The Great Lakes dates back to 1929, when a Cleveland company initiated production with an 85 hp engine. That original manufacturer went bankrupt in 1933, and a succession of owners have attempted to revive the model ever since. The airplane was offered again in the '70s and '80s with essentially the same engine and prop as today's improved model. That project went bust in 1985, and the tooling and jigs have been dormant ever since.
Bowers felt the Great Lakes could be an excellent entry-level airplane for his Waco artisans in Battle Creek. He contacted John Duncan, then owner of the 2T-1A-2 type certificate, and arranged to purchase all rights for the biplane and put it back into production.
Page 1 of 5