Tuesday, December 3, 2013
Lady Of Water & Sky
The Grumman G-111 Albatross flies again
Conceived by the Grumman Aircraft Corporation in 1944 from a U.S. Navy request for a flying boat, the Albatross (the "HU-16" or "SA-16" depending on service) was designed to be a larger version of both the workhorse Grumman "Goose" and the genteel "Mallard." The Navy wanted an aircraft for search-and-rescue operations that could land in heaving seas, had extended range, and could carry a crew of four, 10 passengers in the cabin and 5,000 pounds of additional cargo of varying configurations. Unveiled in 1948, the Albatross was too late for World War II, but did extensive service in Korea and Vietnam, and was one of Grumman's biggest success stories. The last one flew for the military in 1976.
All Grumman Albatross aircraft were military category aircraft, and none were ever certified by the FAA for civilian operation. However, in the early 1980s, Chalk's Ocean Airways approached Grumman with the idea of converting several HU-16s for commercial passenger use.
Chalk's was a famous airline that operated Grumman Mallards between South Florida and the Bahamas. By 1974, Chalk's had been purchased by Resorts International, a gaming company owned by television magnate Merv Griffin and Donald Trump. With hefty financial resources backing them, Chalk's asked Grumman to select 13 Albatross airframes from military surplus for conversion to "Standard" category, Part 25 operations.
The conversion would include a complete overhaul of the Albatross including rebuilt, wings with titanium wing spar caps, additional exit doors and hatches, stainless-steel oil tanks, new engine fire-extinguishing systems, prop modifications, rebuilt engines and much more, at a cost of about $1.5 million per airframe. The net result was an aircraft certified to zero time on the airframe and engine. The new configuration would carry 28 passengers in comparative luxury. These 13 received the new model designation of "G-111."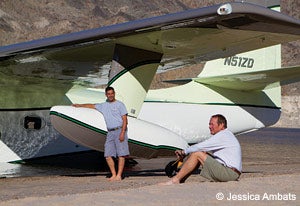 Paul Leveque and Albatross owner Joe Duke enjoy some downtime after beaching the G-111 on a remote shore of Nevada's Lake Mead.
Chalk's operated a few of these airplanes for a short time, but most were put in permanent dry storage in the desert of Marana, Ariz., at Pinal Airpark, a boneyard for civilian aircraft. Thirty years later, the G-111s had succumbed to neglect and the elements, and were filled with bird nests and roadrunner droppings, had broken glass and were derelict. That's when Joe Duke found his Albatross.
"This was basically a zero-time airplane, but was a disaster when I found it," says Duke, using a flashlight in the early morning light to do the preflight. "But the idea of owning one had intrigued me since my days running small boats out of South Florida as a teenager. The combination of a boat and an airplane appealed to me a great deal."
Duke is a successful businessman with a passion for classic aircraft and vintage cars. Having been in love with aviation since childhood, and after owning several small aircraft, Duke threw himself into this project with the goal of using the aircraft for the good of aviation, not just for himself. He was involved in the Haiti relief missions after the earthquake there in 2010, and they left an impression on him. A soft-spoken and thoughtful man, his classic taste is evident in the meticulous restoration of this aircraft.
Page 2 of 5