Wednesday, March 1, 2006
The Howard DGA
Still the ultimate handmade aircraft
The best way to experience a Howard DGA is to imagine it from the eyes of a 1930s pilot, who would have witnessed years of increasingly sophisticated single-engine, cabin-class aircraft. For a decade, airplanes had been growing in size and speed. Stinson Aircraft had introduced an endless stream of Reliant variants to the market to compete with cabin Wacos, Fairchilds and Bellancas. Most were powered by Wright and Jacobs radials, which ranged from 250 to 285 hp; pilots of the era were astonished by the big numbers showing up on their ASIs.
With his first production airplane, the Howard DGA-8, Benny Howard entered the fray with an advantage few designers could match, a reputation for speed. In 1935, a year before the DGA-8 was completed, Howard's designs triumphed at the National Air Races. His airplanes won all three prestigious races, thus earning the Bendix, Thompson and Greve trophies. The 1935 races were playfully dubbed the "Benny Howard National Air Races."
Howard, along with friend and collaborator Gordon Israel, had previously coined the term "go-grease" in reference to what a fast airplane required. Howard's best-known racer, Mister Mulligan, apparently received a liberal application of their speed lubricant. Mister Mulligan was the proverbial quantum leap for Howard and, within a year, based largely on that design, he would bring the DGA-8 to the market. This Wright-powered Mister Mulligan look-alike was designed to capitalize on Howard's reputation for quickly moving an airplane through the air.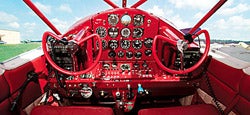 After a 15-year labor of love, Ronnie Rippon completed the restoration of his dream plane, a Howard DGA-15P. His handiwork on both the interior and exterior has preserved the aircraft's original luxurious and romantic feel.
In 1937, the Howard Aircraft Corporation of Chicago was born. Later that year, the company began offering the DGA-9, with a 285 hp Jacobs L-5 powerplant. As was manufacturing custom at the time, each Howard airplane was painstakingly custom built, and from 1936 to 1939, approximately 30 were completed.
It's claimed that early in his career, in the midst of Prohibition, a young and poor Benny Howard accepted a Houston, Tex., bootlegger's offer of a good sum of cash if Howard could successfully modify the bootlegger's airplane to haul 16 cases of liquor. Howard did his work so well that the rumrunner reportedly declared his newly altered airplane a "Damned Good Airplane." From then on, beginning with his first design, the DGA-1, every Howard was known as a DGA.
Page 1 of 3