Wednesday, March 1, 2006
The Howard DGA
Still the ultimate handmade aircraft
Among the best-known and most sought-after Howard planes was the DGA-11 of 1937. This was the first time Howard merged the 450 Pratt & Whitney R-985 to one of his airframes; the results were spectacular. Pilots were reaching cruise speeds of approximately 200 mph. The well-to-do, including movie stars and corporations, were eager to plunk down the then-exorbitant $17,685 for the immensely popular DGA-11. It was an airplane that only needed a little tweaking to gain greater capacity and range. That version was to be the Howard DGA-15P certified in 1940.
The big DGA-15P has three belly tanks for fuel, a design choice made by Howard for his earlier airplanes. Howard's belly tanks are far easier to fuel than the competition's wing tanks, because there's no need for ladders. The R-985 Wasp Jr. requires an oil tank capacity of eight gallons and is rated at 450 hp for takeoff and 400 hp for continuous cruise at 2,200 rpm at 5,000 feet.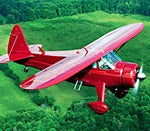 Like the Howards that preceded it, the DGA-15P is a broad-shouldered airplane that visually conveys a sense of purpose—to comfortably move several people at high speeds. But even with its large powerplant, thick cabin-area profile and dual-strut, braced wing, the Howard carries its size and weight gracefully. Perhaps that's because its front-to-rear taper came from the mind of a man whose overall design principle for his cabin airplanes was that of speed plus comfort. If an airplane can have great heft and still be sleek, it is the Howard DGA.
Best seen on green grass, and through the eyes of a pilot of the Golden Age of Aviation, the Howards reveal themselves as magnificent and advanced machines, beautiful not because of their size but because of how that size was achieved. Those in use today also flew over 60 years ago, carrying passengers on missions of business and missions of war. Today, they fly on missions of history and as a labor of love.
Page 2 of 3