Tuesday, October 21, 2008
Jabiru J230: Heart Of Gold
Beauty and solid, easy-flying handling in one package
Walkabout
Time for some cruising action. Throttling up and climbing to 2,500 feet, we leveled off and checked the numbers. At 2,850 rpm, roughly 75% power, we saw upwards of 115 knots indicated, pretty much on book. Trimming this bird is a real pleasure. Dual vertical-trim levers on either side of the lower center console are bungee-loaded. Trim adjustments are effortless and intuitive: Push forward for down, pull back for up. I much prefer this setup to trim wheels.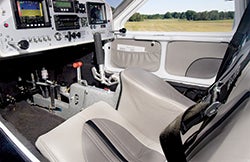 Pilots fly from comfortable semireclined seats in a cabin with plenty of head and shoulder room and great air circulation.
Turns at cruise speeds reinforced that initial feeling of solid stability. The spongy stick grip feels good. The J230 isn't a fingertip-pressure airplane, though, as some LSA are. You feel the stick pressures throughout the range of movement, but control in both pitch and roll isn't stiff, just...present. Pitch pressures are lighter than roll, but it's a modest difference that doesn't require any time to get comfy with. Pitch adjustments come with a bit of finger pressure, roll takes a bit more arm-muscle input. Your arms don't get tired, but you do have to let the airplane know what you want it to do. Roll rates are consistent with a comfortable cruiser like this one, neither too fast nor too "trucky."
Control-surface feedback is much like a conventional certificated aircraft, with no surprises, no overbanking tendencies and no squirrely habits. Centering up with the rudder feels the way it should: responsive without being twitchy.
Jalanti, who covers New England giving demos in the bird, loves the Jabiru's stability and speed. "It's very comfortable for cross-country," he says. "I don't find it tiring to fly at all."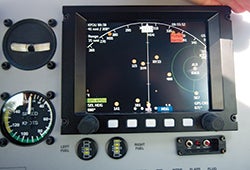 The aircraft can be equipped with dual Horizon Sport EFIS panels as an option
Visibility in the airplane is excellent. Landings are nominal, but being as clean as it is aerodynamically (with it's high-aspect, 105-square-foot wing), the J230 needs thinking ahead to slow it down. Using 16 degrees or so of flaps and keeping approach speeds between 60 and 70 knots does the trick.
This bird likes to glide (12:1 glide ratio), so easing back on roundout and just letting her land on her own, keeping centered with rudder, does the trick.
The electric flap system has "infinite" adjustability rather than conventional detents. Actuation is through a panel-mounted toggle. A column of nine green LED lights on the panel indicates around three degrees of flaps per light, so pick your number of lights: Five, for example, gives you around 16 degrees. Max flaps is nine lights, around 30 degrees.
Aussie Pedigree
Jabiru Australia has been in the kitplane business since 1988. Jabiru USA Sport Aircraft, the American factory, receives subassembled components from Down Under and builds and test-flies the airplanes in its 11-person Shelbyville, Tenn., facility (
www.usjabiru.com
). The company also designs and manufactures its own line of aircraft engines, which have gained worldwide respect (in both experimental kitplanes and many production S-LSA) for smooth operation and low-cost maintenance. The J230 exceeds all ASTM-approval standards and holds full European JAR/VLA certification. Pete Krotje, Jabiru USA's president, claims the J230 passed all FAR Part 23 test parameters for strength, stability and spin recovery and is one of the most tested LSA in the world.
Unlike many LSA, the J230 has a huge storage area behind the front seats, accessible through its own large door. The space derives from the four-seat kit version. Now it's your turn to try a Jabiru J230-SP on for size; that is, if you're looking for an LSA that will treat you well during training, take you cross-country at a good clip and let you down gently. She's a corker, mates!
SPECS:
Jabiru J230-SP LSA



Page 3 of 3