Saturday, September 1, 2007
Blackhawk King Air 200XP: "Simply Good Business"
The Blackhawk conversion allows you to fly one of the world's most popular turboprops farther, faster and less expensively than ever before

Turboprops have always occupied a unique niche in the world's corporate aviation market. The type represents a middle ground in both price and performance between piston twins and pure jets, offering 2,000+ fpm climb and 50 to 75 knots' more cruise speed than pistons, plus six-to-10-seat capability and the talent to fly well above most of the planet's nastiest weather. " />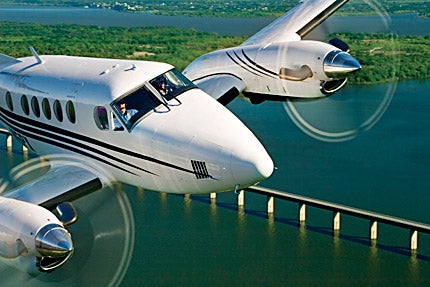 Turboprops have always occupied a unique niche in the world's corporate aviation market. The type represents a middle ground in both price and performance between piston twins and pure jets, offering 2,000+ fpm climb and 50 to 75 knots' more cruise speed than pistons, plus six-to-10-seat capability and the talent to fly well above most of the planet's nastiest weather.
Perhaps the ultimate benefit of turboprops for the business community is the reliability inherent in turbine engines. Even the most reliable piston powerplants rarely boast TBOs above 2,000 hours, but turboprops can easily offer 3,000 hours or more between overhauls, and they demand less service in between.
King Airs have come to be regarded as perhaps the ultimate turboprops. From the "little" C90 to the large, 17-seat 350, King Airs of all descriptions are almost universally revered as the standard by which other turboprops are measured, and sales records reflect that preeminence.
Furthermore, attempt to define the best of the King Airs, and you'll eventually home in on the T-tailed model 200. This one model is almost universally accepted as the best all-around King Air on the market and one of the world's best business turboprops, period. Originally blessed with a pair of Pratt & Whitney PT6A-41 turboprops, developing 850 shp per side, the 200 had six pounds of pressurization and the largest, most luxurious cabin in the class.
Updated with new interiors, engines and avionics, the Beech King Air 200 has proven to be essentially ageless, now more than three decades in production. To date, the Wichita company has delivered nearly 2,000 of the luxury turboprops. At an average $2 million to $3 million per airplane, that represents some $6 billion worth of airplanes, and the company continues to build roughly 40 new B200s per year.
Page 1 of 4