Tuesday, September 30, 2008
The Rarest King Air
Produced for only seven years in the early '80s, Beech's "Little" King Air F90 may have been a bit too good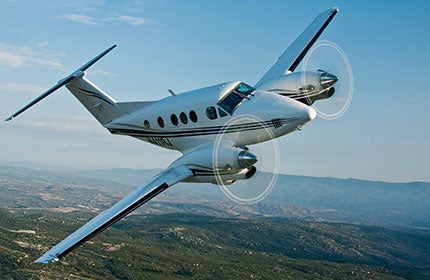 In one form or another, Beech King Airs have always managed to top turboprop popularity polls. Since the mid-'60s, Beech has introduced a King Air for every mission, about a dozen variations on the basic theme. The C90 is still the entry-level model, and it has always represented perhaps the most popular and least expensive King Air. In 1979, Beech introduced the F90, a model that addressed virtually all the early C90's performance deficiencies. The two big improvements were the more powerful Pratt & Whitney PT6A-135 engines, boosting power from 550 to 750 shp per side, and the broad T-tail, adapted from the larger King Air 200.

The F90 offered the same ultracomfortable, 54-inch-wide cabin as the C90, combined with the reduced wingspan of the King Air 100, but the F90's extra power made a major difference in performance. It also positioned the new F90 closer to the ultraluxurious 200 than to the C90. Short wings and plentiful horsepower are part of the formula that air racers use to fly fast at Reno, but in the corporate context, the F90 realized a major performance boost.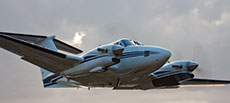 Ron Zagami, CEO of Clairemont Equipment (www.clairemontequipment.com) in San Diego, Calif., purchased his F90 six years ago to service his growing heavy-equipment business in Southern California. Zagami's company offers a variety of heavy-equipment options—Terex (formerly Massey Ferguson), Dresser, Bomag and the Japanese Komatsu. Clairemont operates five offices in California that rent or sell machinery—including forklifts, backhoes, skid loaders, bulldozers and excavators—to the construction industry.

Such dynamic, high-ticket equipment demands comparably fast-moving management, and Zagami knows exactly how to solve that problem. "In addition to our San Diego office, we have facilities in Escondido, Fontana, Indio and Imperial, and those require regular visits to keep everything on track," says Zagami.

With its two PT6A-135 engines, the King Air F90 climbs so well that owner Ron Zagami often files for low-20,000-foot cruise levels, no matter how short the leg. The broad T-tail enables smoother airflow and enhanced pitch control.
"I've been using corporate airplanes for years, always Beech products. I started with a Turbo Bonanza, then transitioned to a pair of Dukes and finally on to the King Air. I deliberately chose the F90 because it's universally regarded as the hot rod of the King Air family. The F90 makes it possible for me to visit all my outlying facilities in one day, rather than just the one or two locations I might manage in a company car. I typically fly the airplane twice a week, usually with three people aboard."
Video by Rochelle Buley
King Air owner Ron Zagami and Senior Editor Bill Cox fly the King Air F90 out of French Valley Airport in Murrieta, California.
Page 1 of 3