Tuesday, July 5, 2011
Grandpa's Kitfox…Not!
A lively, refined STOL winner 26 years in the making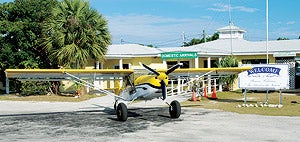 Paul Leadabrand of Stick & Rudder Aviation demonstrated the cross-country ability of his Super Sport when he flew from Idaho to the Sebring LSA Expo in Florida, and then continued to the Bahamas.
Well evolved from its no-frills dirt-'dragger days, the upgraded rig I flew with John McBean had a thoroughly modern panel sporting the latest in electronic gear: a Dynon SkyView EFIS panel, Garmin GTX-327 transponder, and SL-40 NAV/COM and PS Engineering PM 3000A intercom. There's plenty room for a dual glass panel, too.
You can light up the Kitfox with an all-LED landing/recognition tip light package and navigation/strobe lights. And the 360-degree visibility afforded by the clear acrylic doors, windscreen, skylight and baggage turtle-deck windows makes for fantastic viewing in all directions.
But even for the $83,495 base price, you don't have to forfeit the bells and whistles. Standard features include the industry stalwart Rotax 912 ULS 100 hp engine; 27 gallons of fuel; angle of attack (AOA) indicator system with audible alerts (very cool!); dual controls and dual hydraulic toe brakes; and a roomy 11-cubic-foot baggage area aft of the seats rated to 150 pounds—much better than many LSA can boast.
There's also the sexy, stout and lovely Grove Aluminum spring gear, parking brake, cabin heat, carb heat and even fresh-air eyeball vents. Small gear stores under the seats; a four-point lap/shoulder belt keeps you secure for those open-door days, and the interior is well appointed with upholstered seats and tastefully done interior carpeting, finished off with a map/document pocket.
The fabric-covered (2.7-ounce synthetic fabric with high-gloss polyurethane paint), welded 4130 chromoly-tube airframe is a time-honored aircraft technology. To reprise: This is a refined, beautifully handcrafted airplane.
A Brief, Colorful History
The original Denney Kitfox became so wildly popular (more than 5,000 kits sold) as a low-cost, fun-flying, tube-and-fabric construction homebuilt that it was copied worldwide, and offered domestically in several variants. The original Model 1 that I built was sold as a 400-hour kit (an exuberantly optimistic claim), and sported a classic, round "bump" cowl for the beautiful Pong radial engine that, alas, was never produced.
Over the years, the original design evolved to include the Classic IV with stronger lift struts and gear and a higher gross weight, and a Speedster version with clipped wings and attendant snappy performance. There were lightweight and ultralight trainer versions. Even the current Belite ultralight borrows from the Kitfox.
Denney sold the company in 1992. Rebadged as Skystar, a number of models ensued. One, the conventionally powered Series 7 on which the Super Sport S-LSA is based, cruises at more than 150 mph, has a 700-mile range, carries a 700-pound load and, with a Rotax 914 turbo up front, reaches 25,000 feet!
The new company, Kitfox Aircraft, owned by former Skystar employee John McBean and his wife Debra, still hails from Idaho. All models (two kits and the LSA) come out of the Homedale Airport facility.
Page 2 of 3