Friday, September 1, 2006
From Lancair 200 To Columbia 400
Lance Neibauer's aircraft evolution from homebuilt to certified
Using his natural talent for lines and symmetry, Neibauer conceived a two-seat, composite airplane that was as wide as a Bonanza and almost as fast—on nearly 200 less horsepower. The first Lancair 200 was a lightweight work of art with a gross weight of only 1,275 pounds. It featured a DuPont NOMEX honeycomb structure with epoxy-impregnated glass cloth covering.
The wing was a minimalist 76-square-foot, NASA NLF airfoil designed by Dan Sommers of the Langley Research Center. Neibauer comments, "That first airplane was intended as a one-off machine, and I never assumed I could build a business around it. To start the process, I bought a Cessna 150, gutted it, sold the airframe and kept the engine, instruments and avionics. I wanted to see how much performance I could wring from the little 100 hp Continental O-200 engine by using an extremely light, low-drag airframe and wing."
The answer was 167 knots (192 mph), totally obliterating the old aerodynamic rule that suggested an airplane could be considered efficient only if it could generate 1 mph for each horsepower. At a typical 8,000-foot density altitude, the little Continental engine develops perhaps 75 hp, yet the Lancair delivers a stunning 2.5 mph per horsepower. "In fact, we saw top speeds of nearly 210 mph on that airplane, but 190 was a more reasonable cruise number," says Neibauer.
Neibauer introduced the Lancair 200 at Oshkosh 1985 and quickly had more demand than he could handle. There was so much interest in his first homebuilt airplane, "I wound up backing into the homebuilt business," says the designer.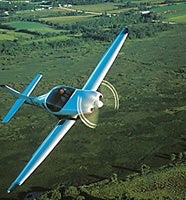 Powered by a 310 hp Continental IO-550, the two-place Lancair Legacy cruises up to 276 mph at 8,000 feet.
Neibauer quit his job, established his first company, Neico, on Santa Paula Airport, which is 50 miles northwest of Los Angeles, and immediately began improving the breed. Inevitably, the Lancair 200 led to the 235, the same machine with a 118 hp Lycoming O-235 powerplant out front. Neibauer followed up with the stretched-fuselage Lancair O-320 and O-360, featuring Lycomings of 150/160 hp and 180 hp respectively.
Meanwhile, Neibauer's personal family was expanding at the same time his aircraft line was filling out. The designer found he needed more than two seats, so he built his own four-seat retractables, the Lancair IV and IVP (pressurized). A variety of engines could be adapted, but the top models used the relatively new Continental TSIO-550, rated for 350 hp.
These IVs offered the best performance of any homebuilt in the industry. Climb was elevated to 3,000 fpm and cruise was nearly 300 knots at 25,000 feet. While the four-place airplanes retained a deliberate family resemblance to Neibauer's line of two-seaters, the IV had practically nothing else in common with its predecessors. It was a totally different machine.
Page 2 of 5