Tuesday, April 7, 2009
Lancair Evolution: Revolutionary Homebuilt
Lancair reaches for new horizons in four-place homebuilts with the Evolution propjet
Video footage shot by Sean O'Leary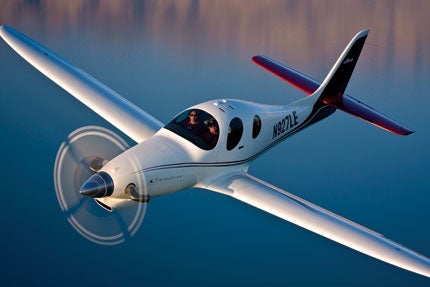 When I flew my first homebuilt in 1973, a VariViggen with designer Burt Rutan in the second seat, the whole point of homebuilt airplanes was innovation with economy. In those days, the apogee of GA four-seaters was the F33A Bonanza, a luxurious single that sold for $60,000. You could build a VariViggen for less than a tenth of that.
Times have changed. Certainly, economy is still a major goal of homebuilts— building the airplane yourself obviously saves most of the labor cost—but the industry has shifted its parameters toward the high end. Today, doctors, lawyers and captains of industry are buying extremely high-performance homebuilt aircraft, often in partnership with experienced builders, and that has fostered the upscale development of kit-built models that tip the economic scales to as much as $1.5 million. Homebuilt turboprops and jets are slowly emerging as a new wave in amateur-built aircraft.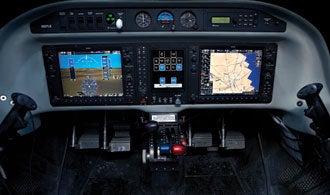 The Evolution's tall and wide cabin features a flat-panel Garmin G900X avionics suite, the experimental aircraft version of the G1000. All information is presented on two 10.4-inch, high-definition LCDs.

Photograph By: John Parker

Lancair International of Redmond, Ore., has always been near the head of the pack, and the company's new Evolution may be the ultimate high-end, four-seat, single-engine turboprop—especially considering that there are no others. The Evolution represents a definite paradigm shift. It's certainly the most aggressive four-place airplane on the market today, certified or experimental. It effectively expands turboprop technology and performance into a new regime.
I flew the Evolution with Lancair's general manager, Tim Ong, the man primarily responsible for the development of the new airplane. I met Ong at the 2008 Reno Air Races, and had a chance to play with the airplane in conjunction with a short test-flight and the air-to-air photo session that produced the images accompanying this story. Interestingly, Ong couldn't run the airplane in the Sport Class because of the piston limitation, but he did fly it on some air-to-air missions and easily kept out in front of the field.
Page 1 of 5