Monday, January 26, 2009
Liberty XL2 Vanguard: The Soul Of A Tiger
The FADEC-equipped two-seater makes training and cruising fun again
Web Exclusive Video
Paul Everitt and Bill Cox fly the Liberty XL2 around Catalina Island.
Video by Marc Lee.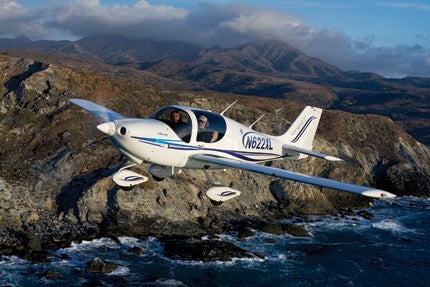 The mission was an intriguing one: I would fly the brand-new Liberty Aerospace XL2 Vanguard Edition for a pilot report along California's Malibu coast. The demo pilot and I would head back to Santa Monica Airport and rendezvous with a Cessna 172 camera ship for an aerial photo session above Catalina Island's emerald waters. The beautiful afternoon promised nothing but high cirrus clouds and great flying.
America seems to be just discovering the XL2. The Vanguard is the latest development from Liberty Aerospace in Melbourne, Fla., and is the only FAA-certified single-engine piston production aircraft equipped with a full authority digital engine control system (FADEC). Its hybrid carbon-fiber construction and its unique design features have endeared it to pilots in the know. China just ordered 600 XL2s in anticipation of opening its airspace in 2010.
I'd been itching to get my hands on the jaunty XL2, and the airplane's reputation as ingenious added to its allure. Liberty Aerospace took the successful XL2 and improved it with a gross-weight increase to 1,750 pounds and other goodies. Payload with full fuel is now a generous 420 pounds. The Vanguard Edition has toe brakes instead of finger brakes and sports three new color schemes; it's IFR-certified (as are all XL2s) and it offers the Aspen Evolution Pro PFD system, Garmin GTX 330 transponder with traffic avoidance and GPS-coupled S-TEC 30 dual-axis auto-pilot as avionics options.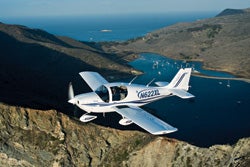 What Makes It Different
The design of the airplane is for thinkers. The XL2's fuselage is constructed entirely of Toray carbon-fiber composites—same as the Boeing 787. The construction is uniquely modular: The entire airplane consists of a steel rolling chassis, removable aluminum wings and a single-piece fuselage that weighs a mere 100 pounds. This component approach makes maintenance easier than with traditional aircraft. A single belly panel opens up to expose the aircraft's major systems, and Liberty says each wing can be removed by a mechanic in 20 minutes.
The Teledyne Continental IOF-240-B provides 125 hp, and the FADEC optimizes performance so the Vanguard only burns 5 gph and offers up 120 knots at 75% power. Low-energy fabrication processes make it one of the "greenest" aircraft out there.
Trainer, Cruiser Or Both?
Although Liberty has partially positioned the XL2 as a two-seat trainer, there's much more to it. The Vanguard is also a bulldog of a cross-country airplane. In fact, its cross-country capabilities might overshadow the fact that it's a superb trainer. Few airplanes, if any, have filled this unique niche. The XL2 is to a Cessna 150 what a Harley Sportster is to a scooter. Its looks are deceiving, but the XL2 Vanguard might be the most ingenious trainer in half a century.
Like the venerable Piper Cub, the Liberty XL2 makes people smile wherever it goes. The first time I noticed this effect was at the AOPA Expo in San Jose, Calif. People would walk up to the XL2, cock their heads like the RCA "His Master's Voice" dog and smile. The airplane invokes fun, and I was to find out just how much fun it is.
Page 1 of 3