Tuesday, September 30, 2008
Better-Than-New P-38
Nelson Ezell's rebuild of White Lightnin' is one of the most beautiful warbird restorations ever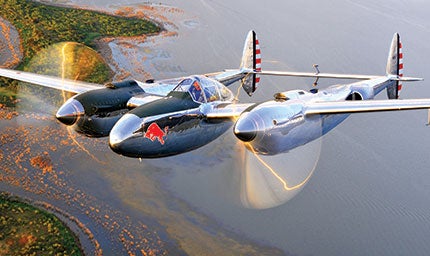 "A few minutes from the airport, I was just sitting there thinking, 'It just doesn't get any better than this,' when the left engine started backfiring and popping violently. I pulled the power back, and the cockpit went completely black with smoke. I started coughing and suffocating, feeling helpless right away. I was probably between 1,000 and 1,500 feet, just trying to make sure I kept the green stuff on the bottom side. I didn't want this thing upside down [and hitting] the dirt at 300 miles an hour.

I popped the canopy, and immediately it was clear again. I looked out the left-hand side and there was a hole about the size of a saucer with a very intense fire, like a miniature afterburner, poking out the top of that cowling. I literally watched the scoop on top of the engine melt down. I immediately cut the fuel off; shutting the engine down, hoping the fire would go down. It did not.

At this point, I had the right engine firewalled trying to find the airport. I realized I wasn't getting anywhere fast, the fire wasn't going out, and the hydraulics were zero. I didn't trust the standby hydraulic system enough to make the choice to manually pump the gear down. I've seen a couple other airplanes where you try to pump the gear down and you can't get them all down and locked.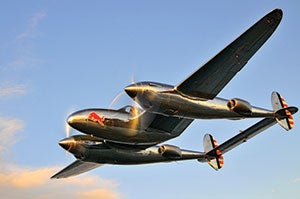 Even if I found the airport, I wanted to belly-land in the grass. Dad always told me, 'If you ever have to belly this thing in for whatever reason, don't do it on the pavement because there are six fuel sources [for draining fuel] right under your seat on the bottom of the gondola that would spark on the runway.' I wasn't about to put this thing up on the pavement. So the best choice was a cotton field immediately below me. The entire time, I'm wondering if I'm going to survive. I hit the ground hard, sliding along with a bunch of dirt being thrown in my face, mouth and eyes. It wasn't long before it stopped. The fire was on my left, and I jumped over the right window and ran, wondering if it was going to explode. At that point, I'd survived and wanted the airplane to survive, too! Thankfully, the dirt had snuffed out the fire."—Ladd Gardner, "An Interview With Ladd Gardner," interviewed by Wayne Sagar, All Aviation Flightline Online, April 20, 2003.
Page 1 of 3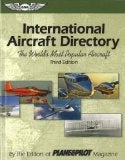 International Aircraft Directory

Plane & Pilot Magazine