Wednesday, October 1, 2008
YIPPEE: Evolution Of A Thoroughbred
Nearly a quarter of a century in gestation, the LoPresti Fury flies into the 21st century full of promise
With thousands of hours in WWII fighters, primarily Mustangs and Bearcats, Fornof suggests the LoPresti Fury design is about as close as you can come in general aviation to those famous fighters. "Okay, so you're not flying behind a Merlin or a Pratt & Whitney. The feel is still military, but with civilian comfort," he asserts. The airplane also sports aerobatic chops in keeping with its slick design. The LoPresti Fury isn't an ultimate aerobatic hot dog like the Extra or Pitts, but it does maneuvers with the aplomb of a Mustang. In many ways, it's more similar to a warbird than to a two-seat Mooney or Bonanza.
The LoPresti Fury strikes that happy balance of mini-fighter and casual sportplane, acro "funster" and long-distance cruiser. In campaigning the airplane on the air show circuit around the country, Fornof often flies strapped into his parachute to provide occasional 3D en route distraction.
Roy felt the ultimate litmus test for an airplane was handling and control harmony. As much as Roy loved speed (he drove a Ferrari), he was adamant that if an airplane didn't manifest excellent handling, all the other parameters—climb, cruise, service ceiling, short-field characteristics—were irrelevant.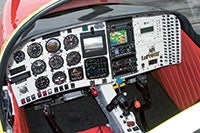 The LoPresti Fury will come standard with a full Bendix/King panel and a unique TaxiCam feature, a forward-looking video camera mounted on the right wing root that checks for traffic ahead, both on the taxiway and in the sky.
Roy was passionate about handling, and it shows up from the moment you push the throttle forward. It just doesn't get much better than the LoPresti Fury. With the help of push rods and roller bearings at every juncture, the LoPresti design handles almost intuitively. Think a maneuver, and the LoPresti Fury glissades through it with the larking, capering agility of Barishnikov on speed. It's almost as if the airplane is psychic, reading your thoughts and anticipating your next move.
Accordingly, the LoPresti Fury will be approved for aerobatic maneuvers like loops, Cuban eights, the gamut of rolls (slow, point and barrel), hammerheads, Immelmanns, spins and split Ss. These are essentially the same maneuvers normally performed in warbirds, and Fornof suggests the LoPresti Fury does them with equal dispatch, if at lower speeds. G-limits are +6/-3, so the airplane can take more than most of its pilots.
Like the Marchetti's near-telepathic response, the LoPresti Fury's agility is somewhere between excellent and purely sensuous. The airplane's ability to challenge the vertical and inverted sky is about as good as it gets. The prototype I flew frolicked behind a standard 200 hp Lycoming IO-360 mill. With 2,300 pounds to lift, that provides plenty of enthusiasm, but at this writing, it's uncertain if that will be the production engine. There's some talk of a Continental IO-550, probably rated for 310 hp. That would make quick work of the airplane's fuel supply (current capacity on the prototype is 40 gallons, but the wings can accommodate up to 74 gallons), allowing only about 2 + 45 plus reserve at max cruise.

The first time I flew the LoPresti Fury, the airplane's control harmony reminded me of the Italian Marchetti SF.260, a brilliant sportplane and military trainer conceived by legendary designer Stelio Frati. (More than coincidentally, Roy used the SF.260's handling as his model in designing the LoPresti Fury's control response.) [See "
SIA-Marchetti SF.260
" from
P&P
January 2008.]

The big engine would also produce a screamer in both climb and cruise. Ascent with the IO-550 would probably top 2,000 fpm, and a 310 hp LoPresti Fury would almost certainly be a 200-knot airplane, probably easily the equal of a Mooney Ovation in cruise.
Page 3 of 4