Tuesday, April 21, 2009
Luscombe Phantom II: A Modern Time Machine
With its radial engine and timeless design, Luscombe introduces an LSA with attitude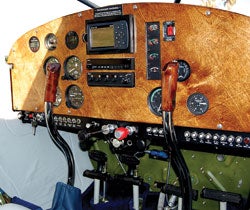 "This is a totally new airframe," says Dearden. "It's the standard Model 8 wings, fuselage and tail, but with a custom-built fuselage." I did notice this Phantom II isn't an exact replica of the Model 4, and not exactly like the original poor-selling Phantom from 1933 either. It seems, instead, like a combination of the best of each. I wondered about the genesis of such a project.
"We originally built it to order for an individual customer," related Dearden. "Then we decided to market it." The Phantom II retains the all-metal, monocoque design of the original Luscombes. It's a construction technique that supports structural loads by using the airplane's external skin instead of an internal frame covered with a non-load-bearing skin such as fabric.
Easily the most prominent feature of the Phantom II is the glorious radial engine adorning the nose. The smooth aluminum cowling and the unmistakable seven cylinders under it announce that this isn't just any LSA. The Australian-built Rotec R2800 radial makes the airplane look imposing and stout, but retains the '30s-era lines. At 830 pounds empty and with a 1,320-pound takeoff weight, the Phantom II is certified as an LSA. It's also one of the only LSA featuring a radial engine. Since the LSA market seems to be flourishing even in these tough economic times, the Phantom II, with its high cool factor, is a welcome newcomer.
I was ready to fly the Phantom II so I could find out whether or not this airplane's beauty was only skin-deep. Luscombes have a reputation for being a pilot's airplane and fun to fly. I wanted to see if the Luscombe mystique had survived the 70 years between then and now. It was like going back in a time machine; only I didn't need 1.21 gigawatts of electricity to get there.
As I walked toward the cockpit, the curved fuselage surface gave me a carnival fun-house look as I slid into the left seat. There's no yoke on the Phantom II, and both sticks have beautiful wood grips. The matching polished wood panel was an immediate throwback to another era, and it was as if I was inside a Staggerwing Beech or something with equal panache.
But as I looked around the cabin, I knew I was in a modern airplane. The Garmin 396 GPSMAP, along with Garmin radios and transponder, completed a basic but efficient panel. The nonadjustable, gray leather seats are ergonomically designed and offer great support. Above me, a single oval skylight gave the cockpit some much-needed light.
Page 3 of 4