Tuesday, May 20, 2014
An Airplane For The Jeep Trail
Here's a Maule that can handle asphalt, dirt, tundra, snow or even water runways with equal dexterity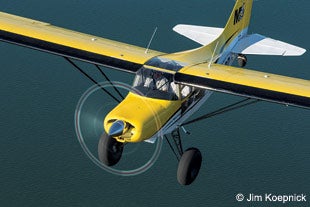 The Maule M6 is powered by a 235 hp Lycoming IO-540 and cruises at 140 knots.
The airplane on these pages is an M6-235 with a bush package that includes 31-inch tires from Alaskan Bushwheels, new wheels and double puck brakes, and extended gear legs that increase prop clearance by four inches. This Maule M6 was purchased by Texans David and Cade Isham.
The Ishams have a 1,200-acre ranch north of Fort Worth near Decatur, Texas, where they run 400 head of cattle and operate a Western store called National Roper's Supply. "We specialize in teaching people how to rope right here at the ranch," Cade explains, "and in support of that mission, we sell just about everything you could possibly need for roping, plus a full line of equine accessories, riding gear and clothing."
When they went looking for a short-field taildragger, they first considered a Carbon Cub. "The numbers are pretty amazing on the Carbon Cub," comments Cade. "As an LSA, the airplane can get in and out of incredibly small spaces (it once made a takeoff at the annualValdez, Alaska, short-field competition in only 19 feet), plus now, it's certified as a homebuilt experimental under the EX designation that allows it to fly at 1,865 pounds. CubCrafters brought one into our 1,000-foot ranch strip, and Dad flew it. You couldn't help but be impressed with the performance, but we felt we needed the extra room for four seats or two plus camping gear, so we were more inclined toward another Maule."

The maneuver is called a "jump takeoff," and it's a perfect description of what Maules can do that most other airplanes can't.

The Ishams were already familiar with Maules. They owned an MXT-7-180, a nosewheel Maule with a 180 hp engine. Cade learned to fly in the mini-Maule and explains, "After our excellent experience with the little Maule, Dad and I were interested in checking a taildragger off our bucket list."
Accordingly, the two pilots flew over to Maule's Georgia factory to see what was available. "As it happened," says son Cade, "Brent Maule had an M6 fuselage almost complete, and after some discussion, we decided to purchase the new airplane and have it built to our specifications, complete with the big tires."
Maules of any description are always fun to fly, but the M6-235 was/is a particular joy. With 235 Lycoming horses out front and a fat Piper Cub USA-35 airfoil overhead, you have all the ingredients for a near-invincible bushbird.
In fact, some pilots feel the Maule wing may be a little too gentle, if that's possible. Flaps extend to a full 48 degrees, and in combination with the high-lift Cub airfoil, stall is so slow (30 knots), you feel as if you could jump out and run alongside. Don't try it, though.
Page 2 of 4