Thursday, September 1, 2005
Mooney 252
For a pilot who has owned them all, only one stole his heart

Speed is a mission in itself; in fact, speed is the essence of flying. The faster you go, the faster you go faster, or at least most of us want to. Terry Williams of Fort Worth, Texas, goes faster than the majority of us in his Mooney 252." />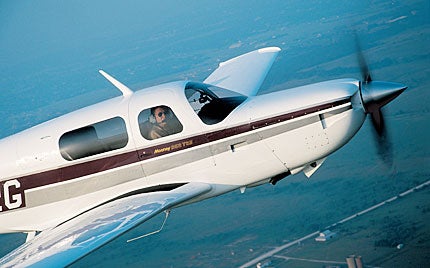 Speed is a mission in itself; in fact, speed is the essence of flying. The faster you go, the faster you go faster, or at least most of us want to. Terry Williams of Fort Worth, Texas, goes faster than the majority of us in his Mooney 252. The amazing thing is that the 252 TSE does it so frugally on 210 hp. A few other turbocharged airplanes can beat the Mooney's 201-knot cruise, but they do it with 300-plus hp and considerably more than 12.7 gph.
This Mooney is known by several names: the M-20K, the Encore and the 252 TSE. Its reputation is one of a speed demon. By the same token, Williams runs with the big dogs, and he outruns more than his fair share.
You could modestly say that Williams has a thing for the 252. "I searched for over two years for a 252 in great shape. I found this 1988 model in pristine condition. There was no question, I had to have it," recalls Williams.
Williams knows his airplanes. One of his businesses was buying and selling nearly every general aviation airplane built. He has bought and sold everything from a Cessna 150 and 172 to Piper Warriors, Senecas, Navajos and even the odd Beechcraft B36TC. When he found this Mooney, he liked it so much that he began selling off his inventory, leaving the fastest airplane he has ever flown.
Like a lot of us, Williams came to flying from something less than a straight line. He was exposed to flying as a child. His dad had a Cessna 310 that he used for business until the late '50s, and his brother got his private license through a USAF flying club. But Williams' dream didn't include piloting until much later in life. Before he got interested in flying the airplanes himself, he went to work on them. His first job out of high school was as an aircraft mechanic in the Air Force, working as a crew chief in the strict good ol' days of Strategic Air Command and the Cold War. He obtained his A&P license while working on B-52s and decided that the grass was greener on the civilian side of the fence.
Page 1 of 4