Tuesday, May 26, 2009
Mooney Ovation 3: Turbo Performance Without The Turbo
The Ovation 3 is the fastest normally aspirated production single ever—period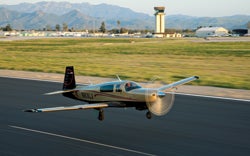 Okay, here come the numbers. With every option tallied, Marshall's fully equipped Ovation 3 weighs in at a hefty 2,424 pounds against a 3,368-pound gross weight. That leaves a 944-pound useful load. Subtract 100 gallons of fuel, and payload is reduced to just under 350 pounds. In Marshall's case, that works out just fine, as he and his wife weigh only about 320 pounds collectively, and baggage makes up the difference.
Creature comfort is always dependent on the size of the creatures, and the Ovation's cockpit can ensconce pilots as tall as six-foot-six. The cabin is 43.5 inches across by 44.5 inches vertical, wider than an A36 Bonanza, but not as tall. Seating position is semi-supine (laid-back), however, so modern Mooneys are hardly cramped.
The Marshall Mooney also features the Jose Monroy 130-gallon, long-range tanks, in case you're one of those strange folks who likes to endure for 10 hours at a time. The bottom line is an airplane that can fly much longer than most pilots are willing to sit, but only with two lightweights up front.
(Of course, if you can make do with the standard 100 gallons, you can still endure for 5.5 hours at about 185 knots and enjoy a range of just over 1,000 nm. That ought to be enough for anyone who's not silly enough to fly across an ocean.)
The most immediate and obvious benefit of more power comes in climb. With 310 hp on tap and only 3,368 pounds to lift, the Ovation 3 sports a low 10.9 lbs./hp power loading. All other factors being equal (which almost never happens), a low power loading generally translates to good climb performance.
Better still, climb seems relatively unaffected by load, and it seems to go on forever. Back in the 1990s, I delivered nine Ovations overseas, one from the Kerrville, Texas, factory to South Africa, and eight more from Texas to Brisbane, Australia. The Pacific trips usually departed from Santa Barbara, Calif., to Honolulu at 3,900 pounds. That's about 550 pounds over gross (with 120 gallons of additional fuel on a ferry permit). Climb was certainly affected by the overweight condition, but once the airplane caught its breath, I still saw a consistent 900 fpm climb to the typical initial 6,000- to 8,000-foot cruise height.
Marshall suggests he and his wife experience better-than-book climb numbers flying near gross. Though he rarely has occasion to fly bladder-stretching legs, the long-range tanks provide a hedge for those times when you'd rather not stop, or would prefer to hold out for a cheaper fuel price.
Page 3 of 5