Tuesday, May 26, 2009
Mooney Ovation 3: Turbo Performance Without The Turbo
The Ovation 3 is the fastest normally aspirated production single ever—period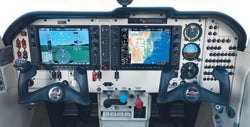 Benefitting from over 50 years of development, the Ovation 3 offers an air-conditioned cabin with the Synthetic Vision–equipped Garmin G1000.
Flying almost exactly at gross weight with Mooney's California regional sales director, Jennie Mitchell, in the right seat, owner Marshall in the aft left and Peggy Herrera in the fourth bucket, the Ovation 3 paid little attention to the load. I always climb Mooneys at a lower-deck-angle 120 to 130 knots rather than the recommended 105 knots, the better to see what I'm about to hit. At that speed, with all the knobs against the panel, the airplane logged 1,400 fpm initially, and settled on an easy 1,100 to 1,200 fpm for the short climb to 8,500 feet.
Most folks who fly little airplanes for a living (or even just for fun) acknowledge that speed is certainly one of the ultimate aphrodisiacs, and the Ovation 3 is therefore one of the sexiest machines in the sky. For our first cruise check, we went to the whip and left the engine at its full 2,700 rpm limit, just to see the top number.
Given its head, the Ovation 3 slips through the sky with the synchronicity of a Ginsu through hot butter. On our first max cruise check at 8,500 feet, I watched true airspeed settle on an eventual 192 knots, meanwhile pouring 19 gph through the engine.
At today's fuel prices, you'd need to be in a real hurry for that to make sense, so the better alternative is to climb higher into thinner air. With so much horsepower on tap, the Ovation 3 likes to fly tall where it can score reasonable economy while notching big speed. After our max performance cruise checks, we ascended to 10,500 feet, where about 70% power was all there was. Again using 2,700 rpm, we saw 189 knots for 17 gph. And, remember folks, that's flying in breathable air without a turbo. Service ceiling is a lofty 20,000 feet in case you need to buzz the summit of Mt. McKinley.
With air-conditioning keeping everyone's cool, Garmin's all-knowing, all-seeing G1000 with Synthetic Vision on duty, the talented GFC 700 autopilot to help drive and the big Continental chortling happily, the Ovation 3 makes an excellent ride in the middle sky. The Bose X headsets make the noise level moot, and all four occupants enjoy armrests and plenty of head and elbow room in a bright, comfortable cabin. It's not a G550, but it's also about $52 million less expensive.
If I owned an Ovation, I'd probably fly it most of the time at 10,000 feet or higher. Traffic is less of a hassle up high, weather tops are usually well below, speed and efficiency are better, and the safety margin improves with every 1,000 feet. At two miles AGL, you can glide roughly 20 miles in any direction.
When it comes time to return to earth under power, the Ovation 3's standard speed brakes allow it to decelerate like the Enterprise coming out of warp drive. On such a truly slick airplane, the Precise Flight speed brakes provide an excellent hedge against shock cooling, allowing a pilot to execute those frustrating go-down/slow-down directions from ATC without TBO-shortening power reductions.
Landings are far simpler than the airplane's reputation might suggest. Dirty stall checks in at 59 knots, so a reasonable approach speed is anything over 75 knots. Mooneys have long been accused of being floaters, but if you keep the approach speed to 80 knots or less, that's rarely a problem.
We don't normally talk much about flight manuals, but the Ovation's is one of the best I've seen—well executed, comprehensive and full of more information than you'll probably ever use. That's a welcome change from the days when flight manuals often seemed written by a dozen monkeys on IBM Selectrics. In researching this article, there were hardly any questions left unanswered by the Ovation 3's POH and supplement.
Page 4 of 5