Thursday, May 29, 2008
In Love With The AT-6
Big and chunky looking, the surprisingly agile texan redefined the role of the advanced trainer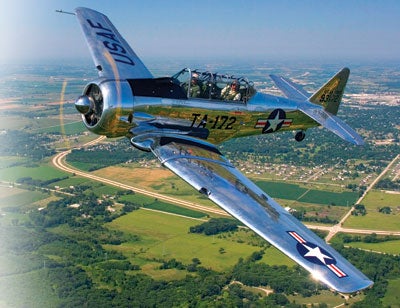 On the ground, a T-6 Texan looks anything but fun. The first time I flew a Texan, 20 years ago out of Santa Paula, Calif., with the late Doug Dullenkopf, I expected to have my hands full with a heavy, unwieldy beast.
Instead, I was amazed at the airplane's light handling. Doug had an aircraft sales company called Screaming Eagle Aviation that specialized in anything old and exotic, lots of Stearmans and Ryans and an occasional Spartan Executive, Staggerwing or Great Lakes.
Doug also dealt in a few T-6s, and whenever he had one in stock, we'd take turns carving the air, reveling in the sheer joy of caroming two-and-a-half tons of airplane around clouds and arcing effortlessly through the vertical canyons of sky. It was a friendly machine, all fun and no attitude (well, very little anyway), and possessed a sense of freedom and happiness—a joy to fly. Doug's gone now, but the "Big Six" was one of his favorite airplanes, and I think of him whenever I see one.
When you see Bill Greene's T-6, you can't help but marvel at the time and effort some pilots will expend to create a prizewinner. Greene is currently a private investigator in Groveland, Ill., but his not-so-secret passion has always been airplanes. An A&P mechanic, Greene has owned a dozen or more airplanes over the last 30 years, all working up to his current mount, a venerable North American AT-6G.
Greene's machine is one of about 350 North American advanced trainers still flying from a matrix of just under 16,000 built in the '40s and early '50s.
"The man who deserves primary credit for the restoration of my airplane is Robert Smith of Athol, Idaho," says Greene. "I bought the airplane in 2000, but Smith had already spent something like 10 years rebuilding it from the ground up. I did some work restoring the original stenciling of placards and taking care of lots of other details, such as removing plastic tie wraps around wire bundles and installing waxed rope."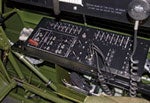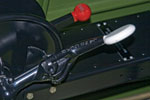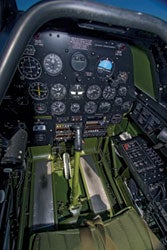 The military airplane has a huge tandem-seat cockpit with placards, switches and levers that have been restored to their original condition.
Between Smith and Greene, the finished product is about as original as it was possible to make. The result is a proven winner that has earned praise and awards everywhere Greene displays the airplane. Greene lives right down the road from Oshkosh, so it's only fair that he has won practically every warbird competition he has entered. Starting in 2001, Greene has taken home Grand Champion and Silver or Golden Wrench awards at Oshkosh, Sun 'n Fun and even the Dayton Air Show. The A&P flies his airplane about 50 hours a year during the air show season.
To fly the product of such love and dedication (not to mention money) is an experience somewhere between wonderful and terrifying. The machine looks and flies far better than any stock T-6 created by North American, but don't even think about what would happen if you broke it.
From the minute you step up to a T-6, there's no question you're dealing with a pure military airplane. There's not a vestige of anything civilian about the design. It's functional all the way, built with strength and utility as its primary goals rather than comfort or speed.
You'll note that efficiency wasn't mentioned above. It's not part of the airplane's mission, and the T-6 makes no attempt to accommodate for economy of size or operation. It's a big, barrel-chested airplane, a massive machine by general aviation standards, nearly 12 feet tall with a wingspan of 42 feet. In the civilian world, a Cessna 421 has about the same dimensions.
Out on the nose, there's a huge Pratt & Whitney R-1340 Wasp engine, a nine-cylinder radial rated for 550 hp (upgraded versions put out 600 hp), that's happy to haul the T-6's 5,600-odd pounds through the sky. This was P&W's first engine, and though it was a product of the 1920s, it was as reliable for its time as the famous P&W PT6A turboprop mill is today.
The engine was used singly or in pairs (or even in threes) in such military and civilian airplanes as the P-26 Peashooter, Boeing F4B, de Havilland Otter, Grumman Ag Cat, Lockheed Electra, Sikorsky S-38 flying amphib, Ford Tri-Motor and even the Gee Bee R-1 racer. The engine sports a whopping 1,344 cubic inches to pump out only 600 hp, so it's dramatically underworked in this application. (In contrast, a typical big-bore Lycoming 540 may deliver as much as 350 hp.)
Military engines pay little heed to fuel burn—your tax dollars at work—and the R-1340 is suitably overpaid. According to Greene, fuel burn at normal cruise runs about 32 gph, substantial but only half the P-51's rate of a gallon per minute (60 gallons an hour). At today's prices, you could expect to pay roughly $150 per hour for fuel on a T-6 at cruise. Throw in a little acro, and you could be pushing $200 per hour.
Page 1 of 2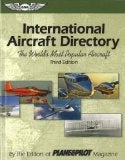 International Aircraft Directory

Plane & Pilot Magazine