Wednesday, November 30, -0001
Wings For A Wheelchair: Paradise P1
It's strong, friendly, roomy and rigged for hands-only flight!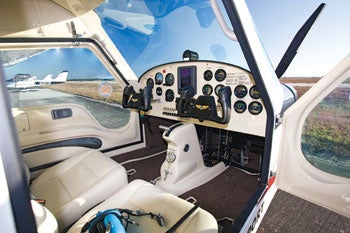 The standard Paradise P1 features an all-leather interior, a roomy panel and a wide, comfortable cabin
"I'm very happy with the flight characteristics," said Dylan. "It's extremely stable in bumpy air. The airframe is built like a tank—it has large-diameter steel tubing. You can tell this plane wasn't designed as a light-sport."
To round out the suite of hand controls, Noe built a split brake lever that pivots up from the floor. Heavy-duty hydraulic brakes are actuated by Dylan's left hand, one at a time or together. "The whole system lets him taxi with his right hand, and communicate, accelerate and brake with his left hand," says Paulo. "For flight, he stows the brake control flat on the floor, then pulls it back up for landing and taxi."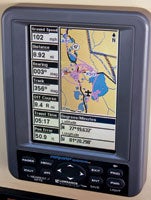 Powered by a 100 hp Rotax 912 ULS, the LSA can be equipped with an optional Lowrance AirMap 2000 GPS
Noe and Dylan's collaboration showcases a benefit of the LSA philosophy and implementation. Manufacturers can continue R&D refinement and testing without having to invest bargeloads of bucks for full FAA certification. Think about how many physically challenged people might now fly an LSA who never would have flown otherwise.

Jumping Upstairs
My turn to fly! My dreams of Paradise were delivered, thanks to Ed Ricks. His Sport Plane Dynamics (
www.sportplanedynamics.com
) is a Glendale, Ariz., Paradise dealership. Ed cheerily delayed his plans to take me up in his own P1.
The P1 is a beautifully finished airplane with a quality all-leather interior that feels secure and comfortable. A roomy panel with steam gauges and the five-inch Lowrance AirMap 2000 GPS evoke a traditional/new tech mix.
At 43.3 inches, the cabin is nearly four inches wider than that of a Cessna 172. The conventional controls are well placed and logical: The throttle lever and manual rudder and stabilator trim knob live on the center console. Dual carbon-fiber yokes, nosewheel steering, toe brakes—shades of Wichita Tin. This beauty is clean and bright, carpeted and has big, composite, front-hinged doors for easy ingress—an all-around tastefully finished airplane that's also built like a truck.
We effortlessly lifted from the tarmac, tugged along by the industry-standard 100 hp Rotax 912 ULS. I loved the sight picture over the nose, which angles down for a great forward view. The side view is good too, although, because the top of your head is up inside the wing root, you have to duck forward a bit to see out along the wing bottom to the tip. Still, the viz down and back is great; you just feel slightly more enclosed here than in some high-winger LSA.
Page 3 of 4