Peterson's Performance Plus
Our pilot reports detail the inside and out of popular general aviation aircraft.
Tuesday, March 10, 2009
LSA Flight Report: Cruiser In School Clothing
Mix all-aluminum construction, deep aviation manufacturing background and the desire to build a robust training aircraft, and what have you got? Eaglet!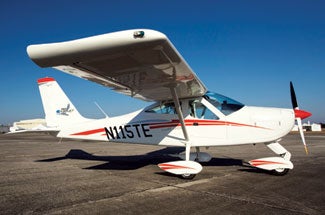 The truly wonderful thing about events like the recent Sebring U.S. Sport Aviation Expo is that you have the fun, and the scheduling challenges, of flying many different types of aircraft at one sitting. "Sitting" is a key word. I came to regard it as an aviation smorgasbord—for my tush. Of course, such an avian feast feeds other visceral, spiritual and intellectual appetites too, but sitting comfort in an airplane is also important, yes? You betcha.