Peterson's Performance Plus
Our pilot reports detail the inside and out of popular general aviation aircraft.
Thursday, April 1, 2004
The New Super Decathlon
American Champion 8KCAB offers some of the best aerobatic talent in the two-seat, sportplane class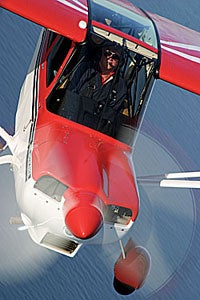 Rich, I know you can't see the ball from the back seat, but if you could, you'd be rolling with laughter," I said. I was flying Rich Manor's new Super Decathlon in left-echelon formation 20 feet from our old friend Saratoga SP photo ship, and my lazy feet were out of practice at flying an airplane with considerable adverse yaw. The ball bounced back and forth out of its cage as I maneuvered on the Saratoga, the slip indicator only occasionally stopping in the center. It had been several years since I'd flown a Super Decathlon, and my rusty technique showed. Gotta unlearn those bad habits, I thought. Too many hours in Mooneys/Bonanzas/Malibus/Centurions and other modern designs that forgive poor rudder coordination.
More Peterson's Performance Plus Articles...