Saturday, March 1, 2008
Ciao, Avanti
Fast-forward in the Piaggio P.180 Avanti II
Cleveland Center, ciao! Avanti 180PA checking in, flight level 280."
It's almost too easy to call the Italian Avanti II the Ferrari of the skies, and from the moment I floored the Avanti this morning on a wintry runway in Halifax, Nova Scotia, Canada, I was plastered into my seat like I was in a Ferrari 430 Spider with the top down, stiff breeze mussing what's left of my hair, pealing away from a red light that lasted a few seconds too long. The only thing missing was the squeal of Pirelli tires and the smell of a heated clutch and scorched rubber.
Of course, tires do me no good on the jet route we're making serious tracks down, and it seems the engineers at Genoa-based Piaggio Aero Industries SpA left one item off the Avanti's checklist—adrenaline on.
I got my first shot of Avanti adrenaline about a year and a half ago in the skies above Portofino, on the Italian Riviera. The plane I flew then, an Avanti I model emblazoned in Maserati colors, was as much an object of desire as the exotic Italian supercars that share its bloodline.
This morning, when I clambered into the factory-fresh Avanti II in Halifax, I was greeted by a new panel, the Collins Pro Line 21; new and more-powerful-at-altitude PT6A-66B turboprop engines; and a new max gross weight of 12,100 pounds, up from the Avanti I's 11,550. With this allowable weight increase, the Avanti II's owner can now fill the tanks, fill the seats, add some bags and go.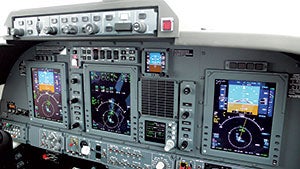 The P.180 I'm flying for this report is "green" in more ways than one. Piaggio's Bill Hauprich, with whom I'm flying today, began his trip a couple days ago at Piaggio Aero's base in Genoa, and arrived in Halifax yesterday after stops in Edinburgh, Scotland; Reykjavik, Iceland; Narsarssuaq, Greenland; and Goose Bay, Labrador, Canada. Because all Avantis bound for North America get their interiors at Piaggio's U.S. base in Denton, Texas, the slick bird we're flying south has no interior behind the flight deck. But this Avanti is also that other green, as in the most ecofriendly and efficient turboprop aircraft on the market today. It's also the only turboprop to break 400 knots carrying eight people in midsize cabin-class comfort while burning up to 40% less fuel than any of its competitors—but more on that in a minute.
Page 1 of 4