Tuesday, January 22, 2013
An Old Stalwart Gets New Attention
Piper's Seneca at work and play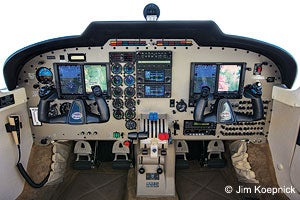 The panel in the Seneca comes standard with a Garmin G600 avionics suite.
An RAA should also be eager to play, and have enough room at the bottom of its operating envelope to poke around backcountry areas low and slow, whether for flightseeing or to drop in on a turf field. The property owners at BSFA, which abuts the 125,000-acre Big South Fork Recreation Area in the scenic Cumberland Plateau, certainly indulge in that activity—whether in their own airplanes or another resident's. As Lamar Parker, who commutes with his wife Marilyn in a twin-engine Cessna 414, said, "Some of our neighbors in the airpark have small airplanes like Piper Cubs, and are kind enough to take us up at a slow pace. I keep talking about getting a slower-moving airplane, but it's a lot easier to buy my neighbors a steak than to buy a new aircraft."
If the Seneca V could handle both these missions, it would establish the air cred needed to contend for Best RAA honors. For the commuting test, we planned an IFR flight to Chattanooga and back. A mere 91 nm, but sufficient to demonstrate the Seneca's cross-country performance and the workings of its Garmin G600 digital avionics suite, introduced as an option in 2010 and now standard equipment, thrusting the almost half-century-old airframe design firmly into the 21st century. (Keep in mind the Seneca is a derivative of the Cherokee Six, which entered service in 1965.) After our return to SCX, we planned to check out some of the natural wonders and scenic points of interest of the Cumberland Plateau from the air.
The weather cooperated for our IFR flight the following morning: IMC with ceilings reported at 1,000 feet, no rain. If, like Piper itself, you hadn't given much thought to the Seneca lately, the aircraft will look like an old acquaintance you haven't seen for awhile, who seems smarter and more sophisticated than you remember. Maybe it's those three-bladed props or rakish paint scheme (a two-tone design in DuPont Imron with a choice of metallic or nonmetallic colors). The wings hold 122 usable gallons; each wing has one filler port that feeds three interconnected tanks. This simplifies fuel management, but the eight fuel drains make sumping a little more time consuming than most pilots are used to. When filled, the Seneca still has 605 pounds of payload available.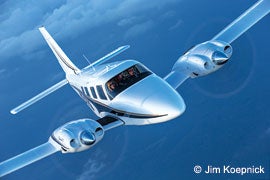 The cabin interior features four-place club seating (leather), accessible via double doors on the port side, providing plenty of room for loading and unloading people, luggage and other gear. The nose locker holds an additional 100 pounds of gear. Storage space behind the forward-folding rear seats, an entertainment console and foldout table give the cabin a look of sleek comfort.
Outside, not much has changed on the Seneca V, which debuted in 1997, over previous iterations. The cowls were redesigned and, most significantly, the engines upgraded to the Continental TSIO-360-RB 220 hp turbocharged engines. (The automatic waste gate and intercooler eliminate concerns about overboosting.) But the cockpit, dominated by the G600 panel, looks nothing like Senecas of yore. Along with the G600, Synthetic Vision, S-TEC 55X autopilot with altitude preselect, dual GNS 430W nav/com/GPS, GTX 330 transponder and GMA 430 audio panel come standard.
N24753 is also equipped with optional GWX 68 Weather Radar, KTA 870 Traffic Advisory System, and PiperAire air-conditioning. Among useful add-ons not onboard: full de-icing group and built-in oxygen system.
Page 2 of 5