Tuesday, July 29, 2014
Making A Turn To Turbine
Piper's flagship, the Meridian, simplifies the turboprop transition
No one makes it easier for a pilot to step up to a turboprop than Piper Aircraft. Product-wise, Piper's PA-46 M-Class pistons provide the perfect transition platforms to the turbine-powered PA-46 Meridian. From a price/performance perspective, the Meridian arguably delivers the best bang for the buck among turboprop singles. And operationally, no OEM has made a turboprop that's easier to operate than the Meridian. "It's a turboprop airplane for the man who's never flown a turboprop, so we want to make it as simple as we can," said Bart Jones, Piper's chief pilot, as we did a walkaround of CGAMM at the Piper factory in Vero Beach, Fla. "This is the most simple turbine engine airplane I've ever flown."
The brand-new Canadian-registered Meridian would be starting homeward the following day, but the owner had graciously allowed Piper to use it first to show off the current generation of Piper's flagship product, which includes a new interior soft-goods upgrade introduced a year ago. With its 260-knot top cruise speed and 30,000-foot ceiling, you need to climb up to altitude and go somewhere to get to know this airplane. Mindful that AMM was headed to Canada, far from its balmy birthplace, we decided to give it a proper tropical send off and filed direct for Key West, 200 nm south-southwest, at flight level 240.
Simple to operate or not, a turbine engine is a different animal than a piston, and even similarities to its M-Class siblings—Matrix, Malibu and Mirage—go only so far. "It's the same-size fuselage, it's the same wingspan, but it's really a very different airplane, structurally, from the piston airplanes," Jones said. "There's only about a 20% parts commonality." The Meridian's wing, for example, is substantially different than the piston PA-46's, primarily to accommodate its 170-gallon fuel capacity, 50 more than the PA-46 pistons can carry. And, its maximum ramp weight, at 5,134 pounds, is also some 700 pounds heavier. But, the Meridian's 850 shp Pratt & Whitney PT6A-42A, de-rated to 500 shp, more than makes up for the added weight. To provide enough rudder authority for the extra power, the Meridian's empennage is 37% larger than on piston PA 46s, and it employs an electrically operated rudder trim tab, rather than the pistons' bungee spring mechanism used for rudder trim.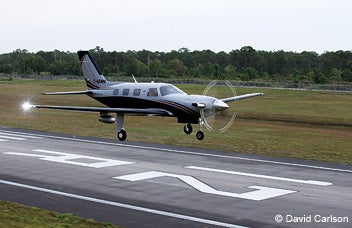 The Meridian's big tail provides plenty of rudder authority in the landing configuration.
A number of changes have come to the Meridian since the first delivery in 2000, most notably the switch to the Garmin G1000 glass cockpit from the standard Avidyne Entegra flight deck in 2009. More modest but impactful enhancements have been ongoing. In 2011, LED interior and exterior lighting systems, Bose headsets and side pockets in the cockpit for iPads became standard. The new soft-goods package introduced a year ago continues the enhancement trend. Aircraft interiors have been getting more attention from OEMs lately, particularly in aircraft where the owner sits in the back, which is increasingly the case with Meridian buyers. "It used to be 90% of customers were pilots, and only 10% had professionals flying for them," Jackie Carlon, Piper's Director of Marketing and Communications, had told me earlier that morning. "In the past few years, 80% are pilots, and 20% use professional pilots."
Before the soft-goods upgrade, all M-Class Pipers had the same interior packages and options, but now, Meridian interiors have higher-quality carpets, leathers and side panels, and buyers have access to more options than before. "We have lovely materials for the other [M-Class] aircraft, but not the high-end we now use on the Meridian," Carlon said. Additionally, the leather and Kydex used on the Meridian's side panels have been replaced by Izit, a luxurious synthetic leather that wears better than the real thing. Today's Meridian also has forward-folding pilot and copilot seats (both fully adjustable), making it easier for generously sized pilots to get in and out of the cockpit. The flight deck is dominated by the G1000's 15-inch center display screen flanked by PFDs in the pilot and copilot positions, with little else cluttering the panel.
Page 1 of 5