Thursday, December 1, 2005
New Piper Meridian
Entry-level turbine with an all-glass cockpit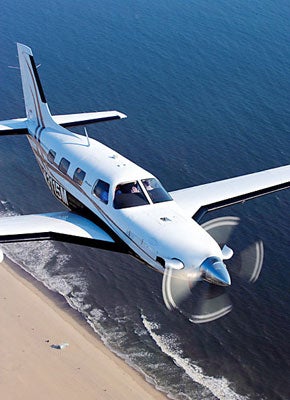 The newer generation of pilots may not remember that Piper had a proud tradition of building turboprops long before the advent of the company's current flagship, the Meridian. As far back as the mid-1970s, Piper was selling Cheyennes, and true Piper trivia buffs like to remind us that the company also built a turboprop version of the P-51 Mustang called the Enforcer. Piper attempted to market the fire-breathing Enforcer to U.S. and foreign governments as an economical, military ground-pounder. (The Enforcer mounted a whopping 2,455 shp Lycoming turbine out front and could carry a range of ordinance.)
Today, New Piper's lone turboprop entry is the single-engine Meridian, a design based on the Mirage and thus the Malibu. In 2001, the Meridian joined SOCATA's TBM 700, the Pilatus PC-12 and Cessna's Caravan to bring the production, single-engine turboprop field to four models. Primarily designed as an entry-level turbine for Piper owners stepping up from the Mirage, the Meridian was intended to bring the talents of turboprops to a new stratum of general aviation pilots.

Bart Jones, Piper's chief pilot and the primary test pilot on the Meridian from conception to certification, says the resemblance between the piston-powered Mirage and the turbine Meridian is certainly more than coincidental, but the two airplanes are more different from each other than they look.

"This really is a very different airplane from the Mirage," says Jones. "In fact, it turned out to be a far bigger engineering challenge than we envisioned when we launched the turboprop upgrade in 1998."

Examine a new Mirage and Meridian side by side on the ramp, and you begin to notice some of the differences. The most obvious is the Pratt & Whitney engine. Turbines are considerably lighter and deliver far greater horsepower than piston mills, and that means they must be mounted farther forward to preserve the CG. In the Meridian's case, that translates to just under a foot more fuselage than the Mirage. Cabin dimensions remain unchanged, with six seats and baggage storage both in front of and at aft cabin.

One big change, however, is the instrument panel. The Meridian now comes with the comprehensive Avidyne FlightMax Entegra glass panel featuring three 10.4-inch displays, a standard Garmin 330 TIS uplink transponder, dual Garmin 430s, STEC Magic 1500 autopilot, weather radar and everything else you might need for communication, navigation and aircraft control. Inevitably, some pilots will want even more capability, and the demo airplane was equipped to the max: Stormscope, XM Satellite uplink and Avidyne's Narrowcast system, which allows aircraft tracking and two-way messaging, plus a second transponder and CMax Electronic Approach charts.

Page 1 of 4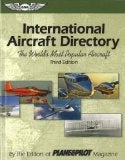 International Aircraft Directory

Plane & Pilot Magazine