Tuesday, May 24, 2011
Piper Archer: 50 Years & Counting
The Piper Archer soldiers on into a new generation
Learning to fly is, in many respects, simpler than it's ever been. True, airspace is more congested, especially around the 80 or so major airline hubs, and aspiring pilots probably have more to learn, but today's trainers are about as sophisticated and easy to fly as possible. These days, it seems that Garmin glass avionics extend practically to the bottom rungs of most manufacturers' model lines. Admittedly, that talented glass-cockpit system is a complex device, but once a student gets in step with the big Garmin, flying the airplane becomes almost second nature.
The ranks of general aviation teaching machines have been dominated by Cessnas. Piper has always had a significant presence in the training class, but Cherokees and their successors have had an uphill battle in catching the older 150/152 and, more recently, the Skyhawk. Still, various versions of the PA-28-180/181 are popular as training aircraft. My Pilot Peggy started working on her private license in an Archer a while back, and absolutely loved the airplane. She switched to a late-model Skyhawk when the Archer's owner took his airplane off leaseback.
Similarly, I know other folks who won't accept anything less than an Archer. A few years ago, a good friend with an American oil company stationed overseas in Manila, Philippines, called and requested that I find him a nice Archer in which to teach his daughter to fly, and for use during his frequent trips back to the home office in Los Angeles. Barry wanted just the right airplane, was adamant about it being an Archer, wasn't in any big hurry, and encouraged me to be very picky. Over the next 18 months, I looked at a half-dozen airplanes, and was amazed at how few were on the market. Apparently, pilots who find good Archers hang on to them.

You could buy an Archer LX, earn your private certificate in it, go on to add an instrument rating, and eventually upgrade to a commercial license.

Now comes the Archer LX, an airplane Piper hopes will help improve its grip on the entry-level trainer/traveler market. The very nature of flight training is changing, and Piper hopes to help change it. A decade into the new millennium, Cessna, Diamond and now Piper, are placing more emphasis on learning to fly in a four-seat, midrange airplane rather than a dedicated two-seat trainer; then, transitioning to higher ratings, transporting family on vacations and weekend getaways, or flying business trips in the airplane.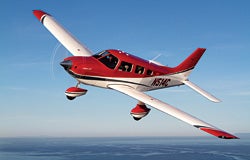 The Piper Archer LX fits perfectly into such a multimission profile. Now that the 160 hp Skyhawk has been shelved, leaving that market exclusively to Piper's Warrior, the Archer LX is a head-to-head competitor with the Skyhawk S, a 180 hp variant of the basic 172 (though the S is fuel injected rather than carbureted). Except for the wing configuration, the Archer and Skyhawk are remarkably similar airplanes in many respects. They share the same horsepower, fixed-pitch props, four seats, fixed gear and cabins of comparable size. Both airplanes emphasize simple systems, gentle handling and landing characteristics that redefine the term "benign."
For many pilots, the Skyhawk/Archer debate devolves to an aviator's preference for high wing or low wing, a choice that often harkens to the type of airplane he or she trained in. There's almost no chance that debate will be resolved anytime soon.
Page 1 of 4