Tuesday, May 24, 2011
Piper Archer: 50 Years & Counting
The Piper Archer soldiers on into a new generation
That means you could buy an Archer LX, earn your private certificate in it, go on to add an instrument rating, and eventually upgrade to a commercial license. Meanwhile, you could enjoy the mobility and convenience of a comfortable machine that can easily operate in 2+2 mode.
As you can tell from those numbers, the four-place Archer isn't a four-people airplane, at least not four full-sized people, and not with full fuel aboard. No surprise there—in all fairness, few aircraft can fly with seats and tanks topped.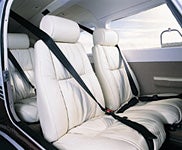 The new Piper Archer LX has a dual mission of trainer and cross-country platform. Its panel features a Garmin 500 system with synthetic vision technology as standard. An option also is offered for upgrading to a dual G500 system.
The Piper's payload numbers are fairly comparable to the Skyhawk's, and neither will fly away with full everything, unless at least some of the people are downsized. If you need to carry a real 680 pounds of humans in the Archer, you'll have to leave about 100 pounds of fuel in the truck, roughly 17 gallons. That will allow you to carry 31 gallons of 100LL, enough for two hours plus reserve at max cruise, perhaps 2.5 hours at max economy settings.
If the load is just Mom, Dad and two preteen daughters, you probably could fuel up, toss in a couple of bags and head for far(ther) horizons. Four hours behind the yoke should yield just less than 500 nm at the airplane's typical block speed of 120 knots, and if you have two preteen daughters in the back seat, you WILL be ready to stop.
That's not necessarily the fault of the airplane. The Archer's noise and vibration levels at cruise, major fatigue factors for pilots and passengers, are surprisingly low. Normal conversation easily is audible without headsets, for those folks who prefer not to be encumbered by wires and a head clamp. I've ferried perhaps a dozen Archers across the Atlantic to Europe, Africa and the Middle East, and the airplane wears well on those long transatlantic legs, often 14 hours or more.
Inflight visibility is good from any seat, especially the left front. If you lean slightly forward, you can see practically straight down through the left side window. Similarly, the view to the top quadrant is reasonable, though a left eyebrow window would be a help.
The Archer LX features a low, full-flap stall speed of only 45 knots, but the even better news is that the airplane manifests stall characteristics just this side of a Maule. Read that as the most forgiving above the planet (one reason the Maule makes such an excellent bush plane). The semitapered Warrior wing, adapted to the Archer in 1976, pays off with little more than a gentle hobby-horse bucking. There's no major pitch moment at the break, and little or no tendency to roll. Perhaps ironically, some flight instructors criticized the Archer's stall as too gentle, as if any airplane could be too safe.
Page 3 of 4