Tuesday, April 1, 2008
Piper Matrix: The Pressure Is Off
Piper unveils its take on a turbocharged, four-place single—with two extra seats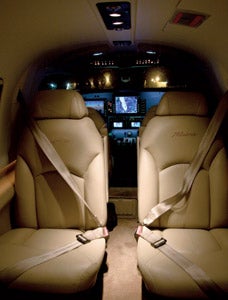 The Matrix cabin measures 49.5 inches across by 47 inches tall; the same dimension is maintained from front office to rear seats.
Standard avionics on the Matrix is the talented Avidyne Entegra, a two-screen integrated flight deck. You can also add an active, heads-up, traffic advisory system, a tactical weather-avoidance system and interfaced international options such as distance-measuring equipment and an automatic direction finder (two features sadly relegated to insignificance here in the States). We've written about the Avidyne system several times before, so we won't review its talents again here. It suffices to say that once you're up to speed on the Avidyne's operation, you'll absolutely love it.
For our first test flights, the initial load included nearly full fuel and three folks; photographer James Lawrence, my buddy (Piper pilot Stan Riker) and me. This brought us to 150 pounds below gross. We departed Piper's manufacturing facility at Vero Beach, flew to Boca Raton to pick up Sandi Shofner and lofted back up to altitude for some cruise checks.
By any measure, the Matrix's cabin is an impressively comfy enclosure, offering plentiful creature comforts, depending, of course, on the size of your creatures. At 49.5 inches across by 47 inches tall, the cabin maintains the same dimension from front office to rear seats, Boeing-style, so everyone enjoys the ride. This was part of designer Jim Griswold's philosophy on the original Malibu—produce a consistent fuselage to the rear of the cabin, then attach the tail without transitioning through an extended empennage that would add weight and wetted area.
For our flights, the left front was the best seat in the house, if only because it was where I sat. Climbing up front through the narrow aisle was a slight challenge, but once settled in, there's plenty of room in every direction. Shofner and Lawrence luxuriated in copious space in back.
Takeoff in the new Matrix is a fairly casual affair. With 350 hp out front to move well over two tons of airplane, the PA46-350 needs to gather itself for the task ahead. It's among the slowest-accelerating GA machines off the line—a Skyhawk could probably outdrag it for the first 100—but once the Matrix hits its stride, it climbs away cleanly. I saw initial climb rates well over 1,000 fpm on our high jump to cruise altitudes between 10,500 and 17,500 feet.
Of course, flight at such levels means wearing cannulas or masks to feed oxygen, and we chose cannulas. When properly fitted, they're less obtrusive than you might imagine. Getting them properly fitted is the trick. If you do opt for oxygen altitudes, you can expect to pick up 10 to 15 knots more cruise over the Matrix's best effort at 10,000 feet.
The standard oxygen bottle is only 50 cubic feet, fairly small in contrast to airplanes such as the Mooney Acclaim (which uses a standard 77-cubic-foot bottle and offers a huge 115-cubic-foot container as an option). Still, you can fly with two or three folks aboard for several hours at high altitude.
Page 3 of 4