Tuesday, April 1, 2008
Piper Matrix: The Pressure Is Off
Piper unveils its take on a turbocharged, four-place single—with two extra seats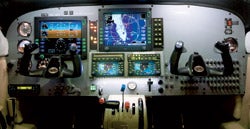 The two-screen Avidyne Entegra integrated flight deck comes standard on the Matrix. Optional features include a "Flight Into Known Icing" package and speed brakes.
Since gross weight and horsepower are unchanged and there are no aerodynamic mods, there's also no logical reason for any differences in performance, but perhaps strangely, the Matrix does seem to benefit from the transition. Both airplanes climb at about 1,000 to 1,200 fpm once they catch their breath, and up at FL250, the Mirage and Matrix are pegged at a max cruise of about 215 knots. Load both airplanes with the same payload, however, and you'd likely see a slight advantage for the lighter Matrix.
In addition to fielding the Matrix as a six-seat alternative to the Cessna 400, Turbo Cirrus and Mooney Acclaim, Piper is offering the PA46-350 as an alternative to the Saratoga TC, with the obvious benefit of the cabin-class entryway and 20 knots more speed.
Price the two airplanes with comparable equipment, and the Matrix winds up about $140,000 more expensive than the top Saratoga. That's without the "Flight Into Known Icing" (FIKI) package that boosts the Matrix price by $55,000. Remember, however, that the FIKI system is a fully approved anti-ice/deice package, whereas the Saratoga's optional TKS system is for inadvertent encounters only, not approved for deliberate operation in known ice. Both airplanes offer speed brakes as an option, a feature that should be included as standard to reduce potential shock cooling.
Almost inevitably, however, many prospective buyers will compare the Matrix to its big brother, the Mirage, and you can't help wonder if Piper might be shooting itself in the foot. Will the Matrix subtract at least a few Mirage sales? The price difference is significant, to say the least. The Matrix is about $385,000 less than the Mirage, and Piper reports 100 advance sales to dealers on its new airplane. The Matrix's $757,000 price buys an airplane without pressurization but with slightly better climb, perhaps an extra knot or two of cruise with the same payload and an extra 190 people pounds of payload than the Mirage.
Okay, so the Acclaim, Cessna 400 and Turbo Cirrus are all a few knots faster. But can any of them carry six folks?
For more information about Piper Aircraft, log on to
www.piper.com
or call (772) 567-4361.
SPECS:
2008 Piper Malibu Matrix PA46-350
Page 4 of 4