Tuesday, April 20, 2010
Piper Matrix: The Second-Year Test
A year after Piper shut down the Saratoga HP, the Matrix helps pick up the slack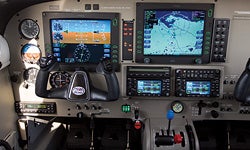 The Piper Matrix's cockpit comes standard with Avidyne Entegra avionics and the S-Tec 55X autopilot; alternatively, pilots can opt for Garmin's G1000 system or an upgrade to Avidyne's Release 9. Other options include speed brakes, a FIKI package and AmSafe seat belts.
If you need to carry a truly big cabin load, there's a limit. The Matrix has a zero fuel weight of 4,123 pounds to minimize the bending moment on the center section. This means that if you're planning to operate at full gross weight, then you'll have to fly with a minimum of 36 gallons. At reduced power settings, you could probably endure for 1.5 hours plus reserve.
The fuselage configuration remains unchanged from the pressurized airplane, and that means no cabin baggage door. For obvious reasons, pressurized designs minimize the number of portals into the pressure vessel to facilitate an airtight cabin, so there was no logic in cutting a baggage door.
As partial compensation, there's a separate 13 cubic-foot baggage compartment up front, positioned between the forward cabin bulkhead and the engine firewall, with doors on each side. The forward baggage hold is ideal for balancing an aft cabin load with as much as 100 pounds of cargo. Its proximity to the engine assures that it's always heated, but it's not pressurized, so remember to bring your toothpaste inside.
Removing all the Mirage's pressurization plumbing means that you can dispense with any concern for "cycles," a definition of airframe wear (preferably without the tear) associated with pressurized airplanes each time the cabin is inflated and deflated. All jets are pressurized, and the airlines are painfully aware that cycles can be an equal or greater limitation than airframe/engine hours.
Another perhaps more peripheral benefit of leaving out the pressurization system is that the air-conditioning suddenly becomes super cool. All pressurized aircraft require AC to reduce bleed-air temperature before introducing it to the cabin, but because the Matrix is no longer pressurized and still uses the same high-capacity compressor, it does a much more efficient job of reducing cabin temperature than the Mirage. If you need to operate in the Deep South or Southwest in summer, the Matrix may be an ideal choice.
Apparently, Piper hit a nerve with the introduction of the Matrix. Almost immediately, the new model became the company's best-selling airplane. In 2008, Piper sold some 216 airplanes, and nearly half of them were the new Matrix model. Now, the question is whether the Matrix will continue to dominate Piper sales and sell as strongly as it did in the initial year of production.
I flew with Piper's chief pilot, Bart Jones, in conjunction with Sun 'n Fun. The airplane was the display machine from the show, so it had every option. That included speed brakes, the FIKI (Flight Into Known Icing) package, traffic and weather upgrades to the Avidyne flat-panel display, AmSafe seat belts and some cosmetic interior and exterior options. (The latest model will offer a Garmin G1000 avionics suite in place of the Avidyne system for an additional $50,000.)
Page 3 of 5