Tuesday, February 23, 2010
PiperSport: Piper's Big Play
Race-car gorgeous. Great performance. Available now!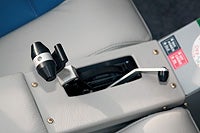 The throttle features a releasing cam (above) that allows pilots to precisely position the throttle lever. The PiperSport's 46.5-inch-wide cabin offers reclining leather seats, excellent visibility and a comfortable fit for pilots of all sizes.
In his speech, Gould evoked the memory of "the first LSA"—the Piper Cub—in celebrating Piper's happy return to its roots. Indeed, the new CEO's tenure at Piper began last year with a call for the 83-year-old company (144,000 aircraft produced, 160 models, with 90,000 still flying!) to return entry-level aircraft to its broad lineup.
It's hard to imagine a better match for the company than the PiperSport. The beautiful, all-metal LSA has proven itself worldwide as the SportCruiser and is already at market.
Exclusive worldwide rights to sell and distribute the airplane as an S-LSA are locked up through PiperSport Distribution Inc. Manufacturing will remain in the Czech Republic under, we can assume, the watchful QA eye of Piper. Parts worldwide will come from Piper's strategic partner, Aviall Inc.
What about tweaks to performance and handling? Derek Zimmerman, Piper's VP of supply chain and aftermarket development, told me there are no plans to extensively rework the design. Certain handling characteristics will be optimized for a greater fit in the training market (i.e., the airplane's well-known stick sensitivity in pitch—more on that in a minute).
By announcing April deliveries of three different models, Piper would seem to have gained the strategic high ground above Cessna. But we're still in the opening minutes of what we all hope will be a very long game: the growth and maturation of LSA worldwide.
With Piper in the game, the LSA industry should get an immediate shot in the arm. The Internet already is abuzz. And why not, with two aviation giants now so visibly involved?
The Piper...Ferrari?
Seeing people huddle around the Piper display at Sebring, you could feel the excitement. The PiperSport certainly is a looker. But beneath the sexy, Grand Prix–like lines, Cherokee manners live. Watching its demo flights in Sebring's LSA flight area, what intrigued me most was how the aircraft floated into every landing, noticeably slower than similar types—almost like it was in slow motion.
Italian race-car appeal with friendly GA handling: now that's quite a package to perfectly match the burgeoning image of sport pilot fun flying.
I watched the PiperSport adroitly hop into the sky (specs call for a 350-foot rollout) at a low rate (45 knots or so), then climb out smartly, right up there with the best in category.
Page 2 of 5