Friday, February 1, 2008
Seneca V: Little Big Twin
When most twins disappeared in the '80s, the Piper Seneca soldiered on. Twenty years later, it's one of only five multis still in production.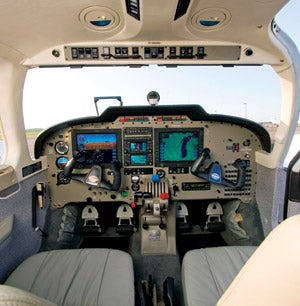 Standard on the PA34 is the Avidyne Entegra glass-panel system, with TAWS and weather data showing on the MFD. Including the pilot, the aircraft seats six, and cabin width is a spacious 49 inches.
Boarding the aft cabin is probably easier than in any other airplane I can think of. Climbing aboard through the twin, aft, left doors hardly deserves the term "climb." You merely step over the low floor and lever yourself into one of the big seats. Separation between the conference-style second- and third-row seats is generous to minimize overlapping legs. If you're flying with no one in the opposing seat, you can put your feet up and feel like a business-class airline traveler with a luxury footrest. There's even a side-mounted writing table on the airplane's right side.
Over the years, useful load has declined from more than 1,700 pounds on the Seneca II I used to fly to more like 1,400 pounds on the new Seneca V. Subtract 122 gallons' worth of fuel (732 pounds), and you're left with only about 670 paying pounds. Leave 50 gallons in the truck, and you'd have nearly six folks' worth of payload with two hours of fuel aboard. A strange-shaped baggage compartment wrapped around the nosegear and a large space behind the rear seats accommodates cargo.
Whatever the payload, the Seneca V's turbocharged Continentals allow you to lift easily and efficiently. The airplane comes off the ground and starts uphill cleanly and without hesitation to catch its breath. Initial climb is listed at 1462 fpm, but most pilots prefer a 130-knot cruise climb, sacrificing perhaps 250 fpm of ascent in exchange for improved forward visibility.
There's little to do on the way up except admire the view and marvel at the Seneca's simplicity. Automatic wastegates keep the power stable to the airplane's critical altitude (19,500 feet) where the horses begin to tire. If you're climbing to any altitude below 16,000 feet, you can usually plan on averaging at least 1,000 fpm. Sixteen minutes after liftoff from sea level should yield 16,000 feet of height. Simple, huh?
In theory, the Seneca's turbochargers allow cruise as high as 25,000 feet, and if you're willing to strap on the cannula and climb to the flight levels, you can see speeds near 200 knots. Realistically, Senecas spend most of their time at lower altitudes that don't demand supplemental O2. At 11,500 feet, with the engines dialed in at 75%, for example, you can expect an easy 180 to 185 knots on about 26 gph. That will deliver just under four hours of endurance for a nearly 700 nm range. For those strange people who buy fast airplanes to fly slow, 55% yields max range over 800 nm.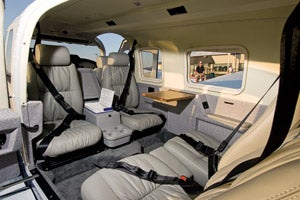 However long you elect to sit in the Seneca V, you're bound to enjoy the experience. PA34s come standard with an Avidyne Entegra flat-panel display that incorporates all flight instruments, moving map, navigation and systems readouts on two large, 10.4-inch glass displays. Entegra offers overlays of weather uplink thru WSI InFlight and a full-time air-data computer to display en route wind vectors. Also, the system can be interfaced with Stormscope to survey electrical activity ahead, as well as Active-Surveillance Traffic Advisories, an active system that monitors possible traffic conflicts. TAWS information reads out on the glass panel and CMax electronic charts offer a worldwide library or approach and en route IFR charts. As if all that weren't enough, the autopilot is coupled to the Entegra to make the in-flight environment as convenient and effortless as possible. (Honeywell's RDR 2000 Vertical Profile Weather Radar is also available.)
Page 3 of 4