Tuesday, February 26, 2013
SUV With A Mission
Backcountry traveler or humanitarian hauler, Quest's Kodiak does it all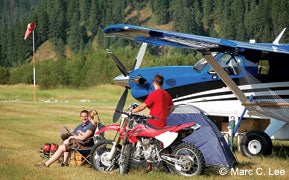 Quest's Ken Stidham, Amber Phillips and Jon Barksdale enjoy the fruits of their labor at the Magee airstrip in northern Idaho.
The first thing that strikes you about the Kodiak is its size. It's a big airplane, and it's full-travel, side-swing pilot door is gaping. If you've ever climbed into the driver's seat of an 18-wheel semi, this is about the same. The 10-seat interior can be configured in different combinations of seats and cargo space. The seats slide out easily, and the whole aircraft can be converted from passengers to freight in a few minutes.
In the western United States, high altitudes and soaring temperatures rob piston engines of their power. One of the many aces-in-the-hole of the Kodiak is the time-tested Pratt & Whitney PT6-34 turbine engine that delivers 750 hp and has a TBO of 4,000 hours. One of the most reliable engines out there, it also has one of the highest power-to-weight ratios you can find. Even at full gross weight, the PT6 gets the Kodiak off in about 1,000 feet—more than impressive for an airplane this size.
Surprising to me, the Kodiak handles much like the larger Cessnas. It's neither ultra nimble, nor lethargic. The airplane has great control harmony, and wrist movements are all that are needed to make things happen. As expected, the visibility is ample, although the exhaust stacks do block some downward visibility at the nose.
Quest offers an option to change the exhaust position for search-and-rescue applications. The cabin is spacious at 54 inches—even loaded with motorcycles and camping gear—and can accommodate larger-than-average adults with aplomb. Three levels of interior are available—from Spartan to downright luxurious, and can include a 10-place oxygen system if you like. Nineteen inches of propeller clearance means you can get in and out of the roughest fields without too much worry.
Once in the air, the Kodiak is a pussycat, not doing anything unexpected. I would prefer a lower instrument panel, or seats that would adjust just a little bit higher, but average folks won't have that complaint. The cabin is as quiet as one would imagine for a utility airplane, and the seats are quite plush and comfortable. Kudos for the captain-style armrests.

The truth is that not all Kodiaks are flown to build orphanages or feed villagers. Plenty of people use the Kodiak as the superlative family wagon and
vacation transporter.

On our trip to Magee, we were seeing 170 KTAS at a fuel flow of about 45 gph. While the book says sea-level climb-out is 1,371 fpm, at our altitude we were seeing about 900 fpm; not bad for a hot August day at full gross. Kodiak's 320-gallon fuel tanks will get you about 5.8 hours endurance at max cruise with a reserve. The PT6 engine maxes out at 25,000 feet.
Page 3 of 5