Tuesday, September 4, 2012
The Sleeper
Is this the low-cost, cheap-repair, rugged LSA trainer that everybody is overlooking?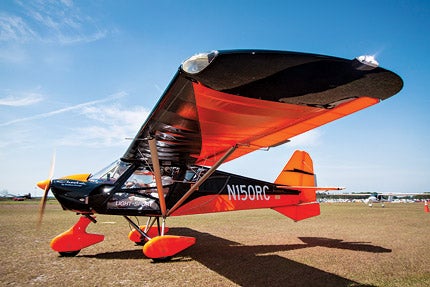 The BushCat from South Africa is powered by an 85 hp Jabiru 2200 engine and has a max cruise speed of 105 mph.
Coming in for my first landing in the Rainbow BushCat at South Lakeland Airpark, that lovely grass strip just four miles south of Lakeland-Linder field where the Sun 'n Fun Fly-In is in full sway, I'm already at ease with this unique, stylish little S-LSA.
You may know this jazzy, ultralight-style, sewn-envelope-skinned bird by its previous name: Cheetah XLS. Recently revamped and renamed by its South African producer, Rainbow SkyReach, this airplane is substantially identical to the new version, so let's just call it BushCat from here on. Currently, just under 150 Cheetah versions are flying worldwide, most in southern Africa.
"Best approach is around 60 mph," Jon Syvertson coaches from the left seat. He's my demo pilot and a third of the three-brother partnership that is Midwest Sport Aviation of Richland Center, Wis. The trio grew up in an aviation family—dad was a commercial pilot based in Oshkosh, home of the Experimental Aircraft Association (EAA). The boys formed Midwest because they loved the sport-flight world, and they're the U.S. distributor for BushCat, nee Cheetah.
A crosswind gust pops up the wing on short final over the trees, but the big effective rudder and responsive ailerons handle it with ease. In less than 10 minutes at the controls, I've found the BushCat to be an easy, intuitive airplane to fly. So, over the fence at 55 mph we glide, then a touch of power to level above the grass. I'm a bit too high in my feel for the ground as flying speed runs out; we plunk on from about two feet. Rats.
I taxi across the grass—ground handling with the steerable nosewheel is a breeze—then wheel around, line up, pour the coal to the 85 hp Jabiru 2200A direct-drive engine, and at around 40 mph, ease the nosewheel off. A couple of seconds later, BushCat politely lifts itself off the turf to head skyward at more than 500 fpm. It's a pretty hot morning here in springtime Florida, and we're at full load.
Around the horn for a second landing, which is better, and my comfort at feeling the BushCat does what I want to do grows ever stronger. Docility, excellent low-speed handling authority, firm but not stiff roll pressures along with good responsiveness (three seconds from 45-to-45 degree bank) to control and power input: very nice. Landing with or without flaps really is about as difficult as easing back the stick, keeping wings level and letting it settle on.
Rudder Me This
The ample rudder, even though truncated by a fixed bottom ventral fin to reduce adverse yaw (and it works: you don't need much pedal into turns), is highly effective. I'm surprised later when Syvertson tells me the manufacturer rates crosswind capability at 30 mph. That's 25 knots, friends. There aren't many LSA out there in any configuration that will dare claim such a high number.
"Frankly, I'd be more comfortable if they'd list it at 20 mph," says Syvertson, "just so people don't think they should disregard crosswinds in it. But, I've seen the company pilot land in 30 mph crosswinds. The airplane can do it." The big rudder and effective ailerons have a lot to do with that.
Page 1 of 3