Tuesday, September 4, 2012
The Sleeper
Is this the low-cost, cheap-repair, rugged LSA trainer that everybody is overlooking?
Even Pipistrel's new Alpha trainer, a sophisticated all-composite S-LSA, currently costs around $85,000. The base price of the BushCat is right around $50,000. Even with a 912 ULS 100 hp power plant—the makers offer four engine packages, and more to come—we're still talking around $65,000.
But it's not just price I'm pitching here. Yes, for owners wanting local fun flying and occasional long trips (BushCat has a 600-mile-plus range, but even at even 105 mph cruise it will take you a while), it's a cheap ride.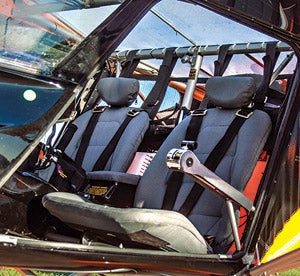 Beyond operating costs for flight schools is the maintenance and repair factor. This is an ultralight tube-frame construction airplane, with all-AN spec aviation-grade hardware. To veteran pilots used to aluminum and rivet monocoque construction a la Cessna, Piper and Beech, ultralights often seem, shall we say, insubstantial. But that's a false impression. Thirty years of ultralight flight have amply demonstrated the surprising strength of the technique. Randy Schlitter at Rans Aircraft has built thousands of airframes with this technique, with an excellent durability record. And the BushCat? It's rated at +6, -4G loading...and it didn't even fail at those test loads. That's equivalent to or better than most GA or LSA aircraft you'll find anywhere: It's a strong airplane.
Also relevant to training costs is the easy avail of quick and inexpensive repair. Prang a wing or fuselage tube? No sweat: unbolt it and swap in another one. Can you imagine that with significant composite or built-up aluminum airframe damage? Methinks not."
BushCat has good three-axis control feel and authority, too. Unlike some ultralight-style LSA, it doesn't wallow around in the air. That's perfect for teaching stick-and-rudder skills that will transfer well to any higher-performing aircraft down the road.
And with real fuel-sipping economy, especially for the smaller-engine versions, yet with a claimed climb rate of 700 fpm for even the lowest-powered version (Rotax 582, 65hp), performance isn't compromised. To reiterate, Syvertson and I, with well over 400 pounds of ballast between us and nearly a full tank, flew on a hot, humid Florida day, yet the airplane never labored. BushCat is no couch-potato kitty.
Look at the sidebars for more info on the recent upgrade from Cheetah XLS to BushCat. For now, if affordable cost (this would be a great club airplane), durability, low operating costs and fun flying are on your wish list, I suggest you get over any reticence you may feel at tube/envelope construction. It's not only a proven technology, but with all the nifty bells and whistles, storage compartments (81 pounds max), this flivver makes home the LSA bacon. Don't overlook this diamond in the rough.
More Cool Features
Cockpit elevator trim; ground-adjustable aileron trim; all rip-stop Trylam fabric; four engine choices; electric carb heat as required; Sensenich wood prop; both-side gap seals on elevators; ailerons and rudders; retractable sun screen overhead; multiple zippered compartments for ease of inspection, maintenance and repair.

Avionics: All-MGL avionics including V10 transceiver radio, electronic engine monitors, airspeed indicator, altimeter, compass, slip indicator.

Additional Standard Features: Dual-accessory power adapters; cloth interior with height-adjustable seats and headrests; map pockets; center arm rest with built-in storage; arm rest with integrated throttle; dual four-point seat harness; landing lights; luggage storage area.
Page 3 of 3