Tuesday, July 6, 2010
2010 Remos GX Avıator II The Joy Of Flight
Nimble, solid, lovely, well-built and what a hoot to fly
A high, dense line of clouds has moved over Great Barrington Airport (GBR) in western Massachusetts. My erstwhile Remos demo pilot, recent Embry-Riddle grad Ron Glazer, has added an extra leg to his East Coast swing so I can fly the 2010 Remos GX (Aviator II edition). And I'm grateful: It's a beautiful afternoon as we cruise over the lush, tree-covered undulation of country hills, farmland and quaint New England villages below. The GX motors happily along. And what I've noticed since right after takeoff keeps me smiling: the airplane's sublime handling qualities.
The GX is one of the most vigorously promoted S-LSA in the U.S. market. Remos (
www.remos.com
) said a year or so ago that its goal was to be number one in America. Notably, the company posted 2009's highest FAA registration numbers, in a decidedly down economic year, with 32 aircraft—one ahead of the CZAW SportCruiser (now the PiperSport). The German-based manufacturer has since refined its flagship airplane continuously. Well established in Europe since its debut in 1997, the company has a new factory an hour from Berlin and provides a consistent high-profile presence at major air shows here and abroad.
Until now, my experience was limited to admiration: the cute pod/boom lines, smooth, first-class composite construction of the bird and the gorgeous cockpit finish had never failed to impress. But I had missed out on the pleasure of its winged company.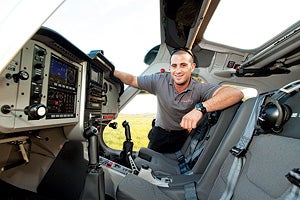 The German-built Remos GX can climb at 1050 fpm and has a range of 745 nm. Remos demo pilot Ron Glazer (right) prepares to take James Lawrence up for slow flight, stalls and a series of landings.
Nice to be able to say then that I haven't flown another LSA that felt more agreeably balanced, effortless to fly and well-mannered. Every aircraft has its balance of "Wow!" and "Hmmm..." attributes. Some are stable but drive stiff as a truck. Some are so twitchy you want to fly them with two fingers. Some need lots of rudder. Some are rather lifeless and not much fun to fly.
Most LSA are a breeze to fly. They're designed as recreational aircraft, so our perceptions of feel and performance are ultimately more about our subjective preferences than true attributes of the airplane. For example, ultralight-style, Dacron-envelope covered LSA generally won't feel as tight, smooth, solid and weighty as a $125,000 composite bird.
Still, the GX's friendliness is a direct result of solid aerodynamic engineering. That discussion has to include the push-pull control tube linkage, which delivers smooth, rather light stick forces: No muscling required here, but no overt twitchiness either. Rudder input is nicely harmonized with the stick, too. After overdoing it initially, Ron Glazer has me do quick left/right bank reversals with no rudder input at all—the poor man's Dutch roll.
Page 1 of 3