Tuesday, July 6, 2010
2010 Remos GX Avıator II The Joy Of Flight
Nimble, solid, lovely, well-built and what a hoot to fly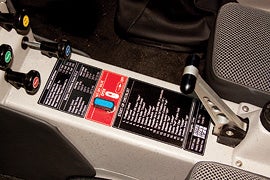 The Aviator II avionics package includes Dynon D100 and D120 EFIS and EMS systems, and a Garmin 496 with XM weather. The brake system is a console lever: Push to slow down.
Chopping throttle and rounding out to touchdown feels solid. And although I'm not as smooth as I would be if I owned and regularly flew the airplane, (always a best man, never a groom!), it's clear that a few touch-and-goes are all it would take to get dialed into the GX.
Ergonomically, the Remos is an exemplary example of what a top-end LSA ought to be. Getting into the cabin is as easy as sit, rotate, buckle in. Fit and finish are first-class. I particularly like the placement of the various levers and knobs, which are commonsensical and add to your confidence that you can find a knob or switch without sending out a search-and-rescue party.
The brake system is a console lever, like the CTLS, but reversed. It takes a few false moves to rewire my brain to push, not pull, for slowdown. Brakes are effective, and taxiing is truly a joy. The steerable nosewheel is nicely responsive to rudder pedal input; it's really fun to taxi the GX.
The Aviator II avionics package deserves mention as it's the top-end stock version of the airplane, priced accordingly at $148,900. Remos does a nice job here for those inclined to a full complement of bells and whistles. Dynon D100 and D120 EFIS and EMS systems, (both on the left side for easier instrument scan) and Dynon HS34 HSI partner up with a Garmin GPSMAP 496 with XM weather, Garmin SL40 Com and SL30 Nav/Com, transponder and audio. Airspeed and altimeter steam gauges are mounted on the right panel for backup, along with a glare shield-placed wet compass.
Pilot/copilot tinted visors, a lovely Neuform three-blade prop and dual throttles—nice for taxiing without taking your hand off the brakes—round out the picture. Numerous options abound: auto-pilot, leather interior, Magnum parachute system and more.
The seat is ground adjustable for a good fit, and as with many LSA, there's plenty of shoulder room at almost 47 inches (seven more inches than a 2005 Cessna 172), and plenty of head room, too. I'm 5 feet, 11 inches, and I measured a good six inches above my noggin.
Visibility is good: The top of the door frame comes about to my eye level, so to look out along the wing requires a bit of a ducking down. Visibility down and aft, thanks to the big-window doors and slightly aft strut, is excellent. The overhead window is great for traffic and terrain scanning in a high-bank turn.
The instrument panel top is higher than some LSA. In cruise, though, the slight nose-down angle opens up the forward view considerably.
If you're looking for a beautiful, first-cabin LSA with truly enjoyable handling and the full breadth of the category's legal performance envelope, quality finishing and strong, multi-dealer company support in the U.S., be sure to add the Remos GX to your demo list. I'll bet you'll feel at home in it in a heartbeat.
Page 3 of 3