Tuesday, February 10, 2009
Up-And-Comer
The new Remos GX rises to satisfy sport pilots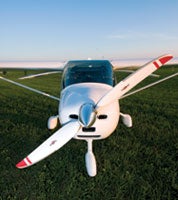 For landing, Ferguson advised using 40 degrees of flaps in normal conditions, 15 degrees if it's a windy day. We used the smaller deployment on a pleasant summer day in Oshkosh. Our arrival over the runway was planned at 55 mph.
I used 3,800 rpm abeam the numbers, adding 15 degrees of flaps once below 80 mph. You have to give the slippery GX time to slow down; it doesn't happen automatically. If needed, as you closely monitor your speed, GX can perform a deep slip. Ferguson explained that the lower the speed and/or the higher the bank angle, the greater the descent rate.
Many European pilots start their training in sailplanes, so long-gliding aircraft are consistent with their experience. The Remos G-3's glide angle was a flat 17:1 and its sink rate was 400 fpm. To better match the American pilot experience, GX was designed to land in a shorter distance with steeper approaches; glide ratio is 10:1 and sink rate is 700 fpm.
We did a performance takeoff on one of our takeoff-and-landing examinations. Lowering 15 degrees of flaps, you add full throttle while applying full brakes. This achieves ground break in less than 200 feet, though a normal-procedure launch requires about 500 feet.
As I maneuvered the GX aloft, I found that throughout steep turns, the updated Remos felt very solid and secure. The handling is light enough to keep physical effort low, but it doesn't surprise you with too-fast responses.
Power-off stalls were nonevents with the Dynon showing speeds down into the high 30s before a mild stall break occurred. Accelerated stalls, slowed to full aft stick at 40 degrees of bank, automatically rolled to level in both directions.
If you're so inclined, you can open GX's doors when you're flying under 65 mph, but you can remove the doors and operate the aircraft up to 90 mph. Are you up for a little breeze on your knees?
When you've wrapped up your day of flying, you can take advantage of a feature rare to GA aircraft: folding wings. This can help lower costs with less hangar space or the use of a trailer for storage.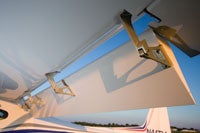 When the wing structure changed, so did the flap. It now offers a generous 40 degrees of extension.
Gee Whiz GX
Priced at $116,500, the basic Remos GX includes standard flight instruments, a VSI, a Garmin SL 40 radio and a Garmin transponder. GX comes standard with a night VFR package including position lights and a strobe light atop the tail.
The loaded version—which comes with a $135,500 price tag—includes goodies such as the dual-screen Dynon EFIS-D100 and EMS-D120, Garmin SL 40, Garmin SL 30 NAV/COM, HSI expansion module and removable Garmin 496 GPS. Those who don't want all-glass may select electric-powered analog gauges. You can also add an autopilot, an airframe parachute, leather seats and an upgraded transponder. If you opt for a parachute system, it will be mounted centrally between the seats on a bulkhead behind the cabin area.
At this writing, the Remos GX is ranked #5 in U.S. LSA sales. Seek out a Remos dealer and make your own evaluation. Visit
www.remos.com
.
Page 3 of 3