Tuesday, January 1, 2008
SIAI-Marchetti SF.260: Bellisimo In Tre Dimensioni
Yeah, it's Italian, and if you're thinking "flying Ferrari or Lamborghini," you're ABSOLUTELY right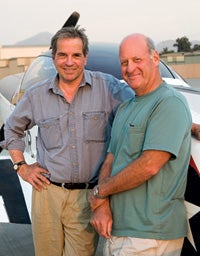 Tony Bill and Mike Patlin (below) are two of four partners in the Marchetti SF.260 featured in this article. They're passionate about this remarkable air-combat trainer.
One of the perks of writing about airplanes for a living is that I'm sometimes extended the privilege of flying fairly exotic equipment. I won't bother to mention all of the various models I've been allowed to fly, but the list includes about two dozen of the world's best piston and jet trainers and fighters, mixed in with 280 other models of aircraft.
I will, however, mention the Marchetti SF.260, my vehicle at Air Combat USA (www.aircombatusa.com), because it's an attainable dream. Many of the other models were so far beyond me that I couldn't have afforded even an hour's worth of fuel.
The famous Marchetti has the distinction of being the weapon of choice for many air-combat schools around the world. In fact, it's still in production—sort of. Aermacchi of Venegono, Italy, will build you a new SF.260 on special order for just under $1 million. If that price tag is a little outside your budget, there are plenty of good, used examples available for less than a third of that figure.
Hollywood actor/writer/producer/director Tony Bill is one of four partners sharing ownership of the Marchetti on these pages. (Before you ask, no, it's not for sale.) In addition to his passion for one of the world's most responsive piston singles, he's also one of those people granted a soapbox to help popularize flying. His most recent cinematic effort was Flyboys, the story of the WWI Lafayette Escadrille. Bill directed the movie, which emphasized action sequences of the air war over France.
The director-cum-pilot can trace his fascination with aviation back nearly a half-century. He learned to fly in gliders out of Torrey Pines, Calif., and flew without benefit of an engine for the first 35 years. Bill transitioned to powered flight in 1990 when he purchased a 150 hp Swift.
"I was into aerobatics from the beginning," says Bill. "It just seemed as if every airplane should be able to fly in three dimensions, and the Swift was the most agile flying machine I could afford." Bill flew acro competitions in a rented Pitts; he next bought a Cessna 310 for cross-country travel, then purchased a Cub simply because it was a Cub, and finally joined the Marchetti Mafia with Mike Patlin, Ray Myllyla and Dan Canin on one of the best SF.260s you could ask for.
Page 2 of 5