Tuesday, January 1, 2008
SIAI-Marchetti SF.260: Bellisimo In Tre Dimensioni
Yeah, it's Italian, and if you're thinking "flying Ferrari or Lamborghini," you're ABSOLUTELY right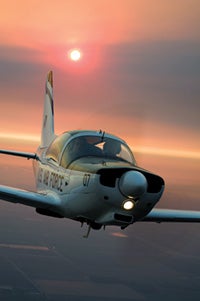 "I can't imagine owning an airplane that isn't capable of aerobatics," Bill explains. "For me, the Marchetti is pretty much the perfect airplane. There's virtually nothing it can't do. It's a wonderful aerobat and a quick cross-country machine. Also, it can carry three people or two plus two if necessary. I use it mostly as a toy, kind of a poor man's three-seat P-51."
It seems virtually every Marchetti owner feels the same way. In keeping with its usual mission (fun), Bill's airplane isn't heavily equipped, but it's in near-perfect condition. "Ray Myllyla is an A&P/AI, and he's an expert on maintaining the airplane," Bill comments. "Mike Patlin, up in Camarillo, owns Air Power Aviation Resources (
www.airpower-aviation.com
), the SF.260 distributor for the States. Finally, partner Dan Canin is a former U.S. Navy test pilot with time in a variety of military jet fighters."
By any measure, the SF.260 is one of the most responsive and exciting sportplanes in the sky. It's not a dedicated aerobat, so it doesn't have the instantaneous "if you can think it, you can do it" reactions of an Extra or a Pitts, but it's likely the world's best-handling aerobatic airplane with more than two seats. (The narrow, aft bench seat is rated for 250 pounds max and can't be occupied during aerobatics.)
In fact, the SF.260 is perhaps best known outside the United States as an airline and military trainer. The brainchild of famed Italian designer Stelio Frati (who also designed the beautiful, all-wood, homebuilt Falco), the Marchetti has been exported all over the world since its introduction in 1968.
Hundreds have been delivered to airlines, such as Air France and Sabena, and to the air forces of Italy, Turkey, Belgium, the Philippines, Burma, Mexico, Ecuador, Venezuela and two dozen other countries as trainers and even counter-insurgency ground pounders. In military trim, the airplane can be fitted with hard points under the wings to mount bombs or missiles. Bill's partnership SF.260 is a demilitarized, former Burmese Air Force airplane, one of four imported into the United States.
At various stages in its production, the SF.260 has been fitted with both carbureted and fuel-injected versions of the popular 540-cubic-inch Lycoming engine, though most incarnations were offered with a carbureted O-540-E4A5. Bill's airplane is a standard, carbureted, 1979 model SF.260C, and it's stock in almost all respects.
Page 3 of 5