Wednesday, November 30, -0001
iCub Love
Classic, frisky, friendly, this Cub clone is so 21st Century
The "i" In iCub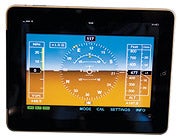 Larry Martin, Sportair's marketing director, wondered how to present the Zlin Savage as "more than just another Cub." To enhance the appeal of lower price and off-airport ops, he and Bill Canino chose Apple's iPad. "We told our local FSDO that the iPad would not be wired to the aircraft, and used only in airplane mode. They were happy with it."

The standard-equipment iPad (with 10-hour battery) dominates the center of the front panel, which also sports standard ASI, compass, inclinometer, altimeter, tach, engine gauges, Hobbs meter, PS Engineering PM1000II intercom and ELT. The iPad's internal accelerometer makes for a cheaper GPS alternative. Although its "assisted GPS" isn't true satellite navigation, as a preflight/inflight weather and airspace-planning tool, it's absolutely crackerjack.

Here are a few great apps, and visit www.planeandpilotmag.com for an even larger selection:

• ForeFlight's Mobile HD has moving maps depicting radar, satellite, VFR and IFR charts, fuel prices, lightning and lots more.
• Garmin My-Cast displays route and weather information graphically along with airport information.
• WingX's moving map has terrain depiction, groundspeed and altitude readouts and en route flight plan updates.
• SkyRadar displays in-flight weather and some traffic (when coupled with optional ADS-B receiver).
• iHUD: Can you say glass cockpit and $5.99 in the same sentence? Info: www.i-hud.com.

Expect an onslaught of future aviation apps for the iPad. And when you land, just undock and take it to the hotel or tent to web-surf, watch movies or, as Bill Canino suggests, "Look at survival info: iTriage, First Aid, animal track identification, knot tying, etc. And the guy in the back seat can do the same stuff with his iPhone 4."

If the iPad helps Sportair carve out marketing contrast between itself and its primary competitors, well, just consider that iGravy.

Page 4 of 4