Tuesday, October 5, 2010
Sirius TL-3000: High society—In blue jeans
Elegant, sexy, high-performing...and oh so friendly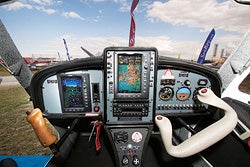 The demo Sirius comes with both a stick-like yoke control and a traditional yoke. Either is available to buyers. Shown is the Garmin G3X panel. The standard avionics package includes one Garmin 696, a Garmin SL40 and a Garmin GTX 327. Several options packages include Dynon SkyView, TruTrak and Grand Rapids.
Sirius is a tomboy, alright.
Corollary to the slow-speed responsiveness is its smooth-as-butter control feel in roll and pitch. That comes by way of the pushrod and ball-bearing linkage for those axes, which bring instant, smooth and minimal-effort translation of control-force input to control-surface deployment. It offers a lovely handling experience, and in the top tier of LSA I've flown.
"We spend a lot of time showing owners how much they can do at low speeds, because some pilots are completely gaga near the stall. Knowing they can do this at approach and departure speeds will save their butts!"
Rudder input is proportional to yaw/roll forces and plenty effective. Sirius isn't what you would call a rudder ship, but centering up with a touch of pedal in turns and on climb keeps her ladylike.
Rounding Out The Stable
My introduction to SportairUSA came two years ago at Sebring's LSA show in Florida, when Bill took me up for an equally fun introduction to the sporty Sting S3, also designed and built by TL-Ultralight. SportairUSA has a new iteration of the Sting, the S4, coming soon, and also distributes the popular SeaRey LSA amphib—and the new iCub. This spiffy version of the Zlin Savage (#18 in U.S. sales, also from Czech Republic) has the taildragging soul of a Piper Cub, time-warped into the 21st century by a standard-equipment Apple iPad "information center."
"Forty Sirius have been produced already," Canino says as we run through a stall series. "It was designed three years ago. The first mock-up pull from the composite molds was so good, they made it into a full-scale aircraft model. We introduced it at Oshkosh two years ago, but as these things go, it took longer to develop than expected. We waited a year after it hit the European market to bring it over here."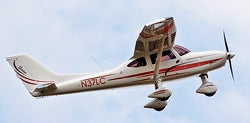 TL's goal all along was to execute a classic design in carbon fiber for pilots who prefer high-wing visibility and ops. Excellent viz is well supported, with plenty of window space and wing struts that attach to the fuselage behind the vertical plane of the seat back. The roomy 46-inch cockpit is half a foot wider than a Cessna 172, with plenty of overhead for tall pilots: Bill is 6 feet, 2 inches, but he has four inches of space above his noggin. All but the tallest pilots won't feel they're sitting up inside the wing. Interior ergonomics are well accomplished, with excellent placement of knobs and switches. Some controls live overhead for easy reach from either seat, ideal for training flights. But Sirius's full-range performance should keep it attractive to new pilots as their skills grow.
One of TL's design goals was to minimize engine vibration to the airframe. Sirius is as smooth as any airplane I've ever flown—and quiet with only 58 dBA of cockpit noise, less than an air conditioning unit! In flight, it feels like a luxury sedan. Nice little touches abound, such as the console-mounted electric flap lever that you tap once for takeoff settings and twice for full flaps, or hold for preferred settings, and PTT and autopilot disconnect buttons on both yokes.
Page 2 of 3