Sunday, June 1, 2008
Water Stinson
Though the Stinsons of the late '40s weren't designed as floatplanes, they adapt to water as if born for it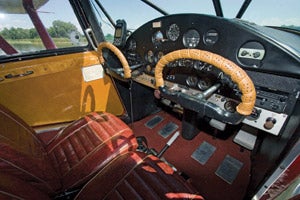 Benike's Stinson has a generous-sized cabin, a large rudder and a 230 hp Continental engine (converted from a 165 hp Franklin).
With the conversion to floats, the Station Wagon picks up an extra 100 pounds of gross, partially offsetting the 300-pound empty-weight increase of the floats. "With full fuel, I'm left with about 500 pounds of payload," Benike comments. "That means I can carry three lightweight people or two folks and all the fishing gear they can get aboard. I really like the Stinson's manners on water, and it will handle most conditions that I'm liable to encounter." Swells on the day of our flight were running probably a foot, and Benike says that's about the operational limit. Any higher swells are liable to beat up the floats and put major stress on the airplane. "Lake Winnebago is often a problem for seaplanes, primarily because it's so shallow, about 16 feet at its deepest point," says Benike. "This can transmit plenty of energy to the surface and, in combination with a little wind, make takeoffs and landings a problem. There are even several places on the north side where sandbars are broaching the surface."
Benike bought the Station Wagon in 1997 as a total package with wheels, floats and skis for $52,000. "That seemed like a steal at the time, as the Edo 2425 floats alone cost about $10,000. With the big engine and a choice of three modes of undercarriage, the Stinson is a remarkably talented machine capable of going just about anywhere. Wheels and floats provide ready access in summer, and skis allow operation to many of the same frozen rivers and lakes in winter.
"When I'm flying on wheels, the takeoff performance is practically STOL," claims Benike, "so I can get into virtually any strip I can find, real or imaginary. The 108-3 is actually a good off-airport airplane, and many of the type are used in the backcountry of Canada and Alaska as bush birds."
The pilot knows a little about bush flying. In addition to his experience in the Stinson, he purchased a Maule M4-220C in 1991 and used it as his trainer. "That probably wasn't the ideal airplane for primary training," Benike admits, "but I really learned a lot about taildraggers and off-airport operations with the Maule."
Benike can convert his Stinson back and forth from wheels to floats in a long afternoon, partially because he's done it so many times before. With the help of one other person to control the hoist, he can manhandle the airplane on or off floats in about four hours.
However Ross Benike's airplane is configured, he's dedicated to hopping rides with aspiring young pilots, and he's an especially active participant in the EAA's Young Eagles Program (
www.youngeagles.org
). So far, he's given just over 200 rides to America's future pilots.
"It's usually a little more fun for them on skis or floats," Benike explains, "but it's gratifying to see their enthusiasm in the sky, no matter what the undercarriage. They all seem to love the thrill of flying nearly as much as I do."
SPECS:
Stinson 108-3 on Edo 2425 Floats
Page 3 of 3