Thursday, May 1, 2008
Air Elite Storm Rally
This LSA is adapted from a European model that has been flying for years in Europe as both a four-seater and an aerobatic sportplane
Anyone who has followed the development of the LSA market in the States is probably aware that many of the current crop of LSAs were developed in Europe as many as 20 years ago. That was long before there was any formal definition of the type, and those airplanes have been adapted to accommodate the American definition. America "discovered" the economy and fun of flying LSAs only three years ago, but pilots on the opposite side of the pond have been aviating in economical two-seaters for decades to offset the high operating expenses of private aircraft.
Many European countries have faced avgas prices in excess of $6 per gallon for years, and in combination with weight-based landing fees that handicapped heavier machines, designers had natural incentives to reinvent the airplane with major emphasis on economy. Now, those same prices have moved 3,000 miles west, and today, it's not uncommon to pay $6 per gallon at major American FBOs on large airports and $5 per gallon at rural fields.
Little surprise then that variations on many, entry-level, European designs have also flown west. Case in point, the Italian line of Storm sportplanes. Storm Aircraft of Sabaudia, Italy, is currently producing the high-wing Rally and low-wing Century (both tricycle designs), and the company is hard at work on the Sea Storm, a taildragger amphibian.
The company has been building composite airplanes in Europe for 20 years, and variations include one aircraft powered by a 160 hp engine and approved for 2+2 operation. There's even an aerobatic model approved for vertical and inverted fun with a single person aboard. The Storm designs are constructed of carbon fiber with Kevlar-reinforcing, built hell for stout and generally regarded as stronger than steel.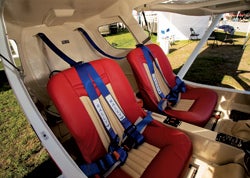 The high-wing Storm Rally has twin gull-wing doors that open to reveal a comfy and surprisingly spacious cabin (with a 43.7-inch cabin width, the two-seater has the same dimensions as a Cessna Skylane).
The Storm Rally is characteristic of Storm's S-LSA product line. The Rally may be new to the U.S. market, but it has been produced in Europe since 1991 as a normal-category aircraft, with some 870 Rallies of all varieties delivered overseas and five delivered in the States at this writing.
The high-wing design looks like a cross between a scaled-down Cessna Cardinal, with its low-rider swept fuselage, and a Diamond Eclipse, with a low-tail version of the latter's waspish empennage. The tricycle design perches low on aluminum-leaf landing-gear legs with five-inch wheels and disc brakes.
In fact, despite the Rally's deceptively diminutive external dimensions, they don't translate to the interior. Twin gull-wing doors open up beneath the wings to unveil a comfortable cabin that's larger than you might imagine. Cabin width of the Italian two-seater is a generous 43.7 inches, about the same dimension as in a Cessna Skylane. Height is a little more compressed, about 40 inches, but seating position is semi-supine, so anyone under six feet, two inches should be comfortable. Baggage area behind the rear seats is a large 16 cubic feet and will accommodate 100 pounds of miscellaneous stuff.
Meanwhile, out on the pointy end, the Rally employs the powerplant that has become practically standard in the LSA class, an Austrian Rotax 912 ULS. The four-cylinder, 100 hp Rotax is geared down and approved for mogas. TBO is 1,500 hours, and following some early growing pains, many of the current engines are actually achieving such longevity.
Page 1 of 2