Tuesday, June 8, 2010
High-Class Cruiser
Metal/composite construction, gorgeous lines, top-o'-the-line luxury—splendid!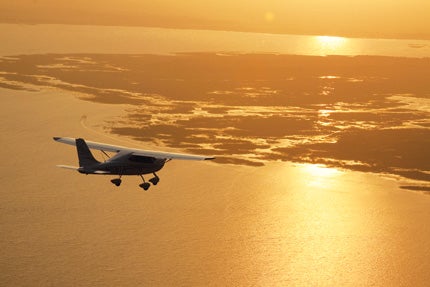 This is the story of three jaw-dropping moments that followed my introduction to the gorgeous, new Tecnam P2008. The first agape moment came after seeing a photo online and trying to post about the plane on my
P&P
blog: My thesaurus ran out of synonyms for "beautiful" long before I ran out of enthusiasm for word-painting the new metal/carbon-fiber S-LSA. Here, I thought, is the complete aeronautical designer's skill at work: form plus function, with a decidedly scintillating emphasis on form.
On my demo flight at Sebring, Fla., with Tommy Grimes, the affable president of Tecnam North America, he likened the new airplane—the first in America—to a supremely appointed Mercedes sedan. Tecnam has gone all out here. The construction and finish are top-drawer. Appointments and the glass-loaded, stylish instrument panel fully complement the sleek, flowing exterior.
Romantic visions sail through my mind. I imagine a corporate CEO and his companion—he in black tuxedo, she in a shimmering silk gown—floating with sublime gravitas to a nearby benefit gala in the P2008.
"I say, Carlton, did you load my golf bag? Oh, behind the seats? Good man."
All that seems lacking is a name befitting this beauty: "P2008" just doesn't cut the Grey Poupon, my good man.
Before we fly with the affable Mr. Grimes, a few words about Tecnam. The Italian company has a long and colorful aviation history dating back to 1948. Since 1992, it has focused on LSA, and with 3,000 light aircraft sold, it's the largest light-sport manufacturer in the game.
Tecnam has the LSA model range fully covered, from the P92 Eaglet trainer—one of my favorite fun-flying LSA—to the P2002, P2004, P92 Echo Classic and, now, the P2008. With its recent acquisition of Spain's CAG—the composite company that designed and built another gorgeous S-LSA, the Toxo—Tecnam now is well-versed in metal- and composite-building expertise.
As Tecnam North America's CEO Phil Solomon told me at Sebring, the hybrid design was intended to maximize the benefits of both technologies: "We wanted it to look the best it possibly could by taking advantage of the strength and lightness of carbon fiber while not losing the capability for easy repair that metal structures bring."
Inside and out, the P2008 is luxurious. But how does it fly?
Page 1 of 4